March 15, 2022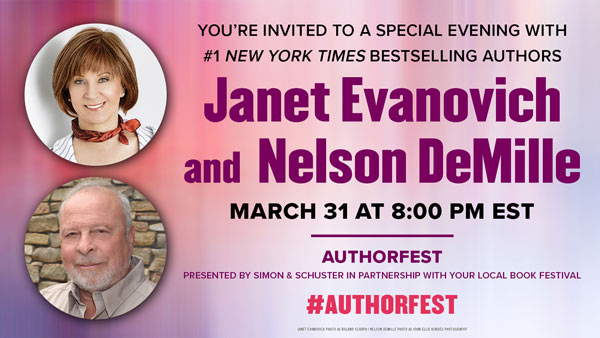 Fasten your seatbelts and fire up your favorite electronic devices! The South Dakota Festival of Books is partnering with an iconic publisher for a special evening with two top-tier thriller authors.
On March 31 at 7 pm CT/6 pm MT, Festival fans can log in to Simon & Schuster's AuthorFest 2022 for an exclusive conversation with No. 1 New York Times bestselling authors Nelson DeMille and Janet Evanovich. Simply click the button below to sign up.
The Spring 2022 AuthorFest is the second iteration of Simon & Schuster's new series of virtual author events, partnering with book festivals around the country to bring live authors to fans.
"We love bringing big-name authors to our readers, as we did at the Virtual 2021 Festival of Books with presenters like N. Scott Momaday and J.A. Jance. We jumped at the chance to partner with Simon and Schuster to offer virtual access to these internationally renowned writers," said Jennifer Widman, Festival of Books Director.
The South Dakota Festival of Books partnered with Simon & Schuster for the inaugural Fall 2021 AuthorFest event to feature a discussion by Bob Woodward and Robert Costa about their book Peril.
"We want AuthorFest to be an opportunity for literary festivals, booksellers, and readers to come together and be part of a conversation among writers they wouldn't otherwise see," said Simon and Schuster President and CEO Jonathan Karp.
Meet the Authors
Janet Evanovich
Janet Evanovich is the No. 1 New York Times bestselling author of the Stephanie Plum series, the co-authored Fox and O'Hare series, the Knight and Moon series, and the Lizzy and Diesel series, as well as 12 romance novels, the Alexandra Barnaby novels, the graphic novel Troublemaker, and How I Write: Secrets of a Bestselling Author.
Evanovich was raised in South River, N.J. She studied painting at Rutgers University's Douglass College, graduating with a bachelor's degree in 1965. After graduating, she married mathematician Peter Evanovich and traveled with him for his job with the U.S. Navy. While raising two children, Evanovich began writing romance stories. She published her first book, Hero at Large, in 1987.
After writing a series of romance novels, Evanovich took her career in a new direction in 1994 with the creation of bounty hunter Stephanie Plum. In 2000, Hot Six, the sixth book in the series, reached No. 1 on the New York Times bestseller list, a spot Evanovich's Stephanie Plum novels have consistently attained ever since.
Evanovich's novels regularly debut on the top of the New York Times bestseller list, and she has more than 200 million books in print worldwide in 40 different languages.
Nelson DeMille
Nelson Richard DeMille is the New York Times bestselling author of 21 action adventure and suspense novels, six of which were #1 New York Times bestsellers. His book The General's Daughter was made into a major motion picture starring John Travolta and Madeleine Stowe.
DeMille was born in New York City and raised in Long Island. He graduated from Elmont Memorial High School, where he played football and ran track. DeMille spent three years at Hofstra University, then joined the U.S. Army, where he attended Officer Candidate School and was commissioned a Lieutenant (1966-69). He saw action in Vietnam as an infantry platoon leader with the First Cavalry Division and was decorated with the Air Medal, the Bronze Star, and the Vietnamese Cross of Gallantry. After his discharge, DeMille returned to Hofstra University, where he received his bachelor's degree in Political Science and History.
DeMille's first major novel was By the Rivers of Babylon, published in 1978 and still in print, as are all his succeeding novels. He is a member of American Mensa and The Authors Guild, and is past president of the Mystery Writers of America. He is also a member of International Thriller Writers and was chosen as ThrillerMaster of the Year 2015. He holds three honorary doctorates: Doctor of Humane Letters from Hofstra University, Doctor of Literature from Long Island University, and Doctor of Humane Letters from Dowling College.
DeMille has three children, Lauren, Alexander, and James, and resides on Long Island.
Learn More
To sign up for the event and learn more, please visit our event page, where you will have an opportunity to submit questions for Janet Evanovich and Nelson DeMille!