April 15, 2023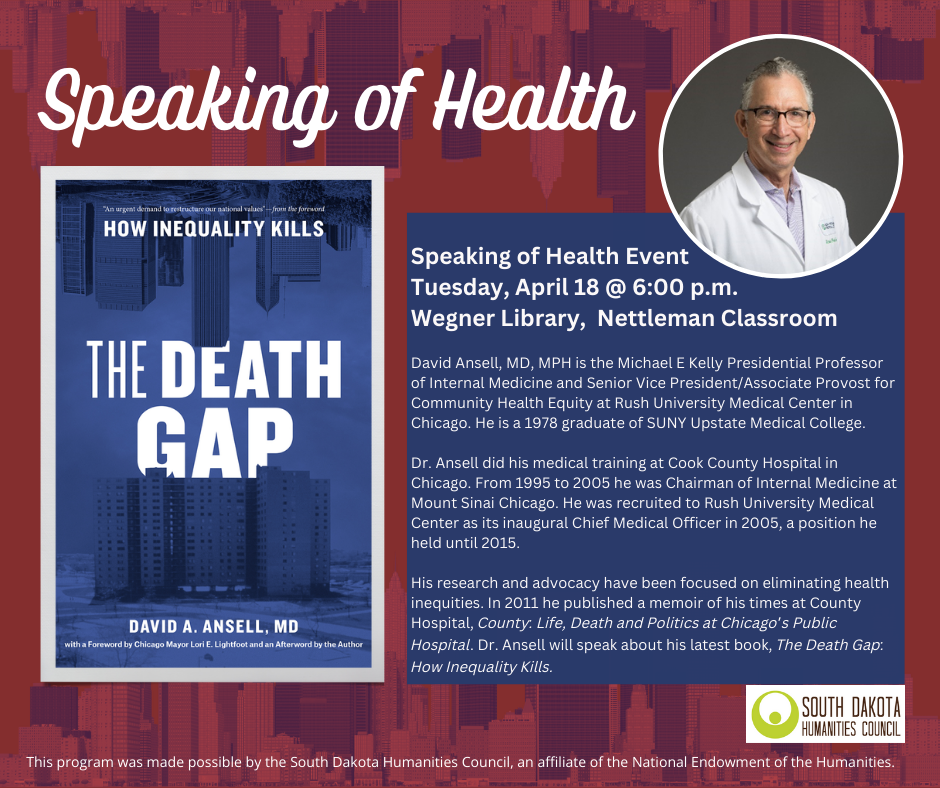 The third installment of the "Speaking of Health" series features Dr. David A. Ansell discussing health care inequality at 6 p.m. Tuesday, April 18 at the Wegner Health Sciences Library in Sioux Falls.
Ansell's talk will focus on his most recent book, The Death Gap: How Inequality Kills, which details disparities in healthcare for low-income individuals. Ansell, a physician who worked for four decades in some of the poorest neighborhoods in Chicago, saw how the income gap affected the health and treatment of those people.
"Tens of thousands of Americans die too soon, and the killer is not random. This killer strikes particular people in particular American neighborhoods. Unlike cancer and heart disease, this killer cannot be treated with medications or surgery. This is bigger than the war on cancer. This killer is inequality," Ansell said in a 2018 TED Talk.
Ansell is a physician, social epidemiologist, health activist, and writer. Along with 2017's The Death Gap, he is also the author of County: Life, Death and Politics at Chicago's Public Hospital, published in 2011.
Funded in part by a $10,000 SDHC grant, the "Speaking of Health" series is hosted by the Wegner Health Sciences Information Center with support from the Sanford School of Medicine's Ethics and Humanities faculty and the DeGroot Center for Bioethics, Humanities, and the Healing Arts.
Through informational sessions with authors and professionals in the health humanities, the series aims to promote education in the health humanities, expose people to how the humanities impact health, and encourage an understanding of the everyday functions of the body.
"Health humanities is a really important, kind of profound, unique discipline that touches on something that is important to every single person: their health and well-being," said Anna Simonson, "Speaking of Health" project director.
"We wanted to find scholars that engaged in the topics that affect the public and that would interest the public. And, of course, topics that have to do with health humanities and broadening our discussions of medicine and wellness beyond just the scientific numbers and really bringing the human into the story."
Tuesday's in-person event is free and open to the public. There will also be a virtual option starting at 6:30 p.m.; the link, along with additional information, is available at https://libguides.usd.edu/healthhumanities/speakingofhealth
A fourth speaker event will take place sometime this summer.
---
Learn more about humanities programming in South Dakota by signing up for SDHC e-Updates!