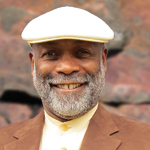 Topics: Anti-racism, Building Community Through Art, Communication, Creativity and Consciousness, Discussion Leader, Education, Marketing, Prison Reform, Writing
Community: Roslyn
Program Types: Book Club to Go, One Book South Dakota, Pre-recorded Program Video, Speakers Bureau, Virtual Program(s), Young Readers One Book
https://www.ldiggs.com/
Public@Ldiggs.com | 605-486-4536
Enhancing Interpersonal Relationships
One of the most difficult things for us humans to manage is our interpersonal relationships. It also is one of the most important things for us to do well. This interactive workshop will cover some of the practical ways to get this done. Patterned in the approach of How to Win Friends and Influence People, it aims to help us through the challenges of dealing with difficult topics with difficult people.
Escaping Cultural Imprisonment
Research shows that the vast majority of us are culturally imprisoned. That is to say most of us "don't get out much." This is likely because we don't know how and/or are afraid to go to places we don't know. This interactive workshop will introduce ways the presenter has found through direct experience to move into cultures around the world. It will introduce the direct and indirect benefits of escaping our cultural imprisonment.
A Lay Look at the Criminal Justice System
The United States leads the world in the number of its citizens who are imprisoned. South Dakota is one of the leading states in incarcerations. This interactive presentation is aimed at exploring ways the public can help reduce the number of people who commit offenses that land them in prison and how to reduce the number of people who reoffend after being released. It will focus on practical solutions.
Using Art to Bring Us Together
Art has always played a central role in connecting people to their communities throughout human history. This program will show how the arts are playing key roles in our lives daily. It will explore ways we might use art to communicate our experiences, thoughts, and feelings. It will engage the audience in searching for actionable ways to involve their community in arts as a bonding activity.
Telling Your Story
Who am I? We humans start asking this question at birth. It is a deep, perpetual question and the basis of much of our internal and external conflicts. This interactive presentation is aimed at helping the participants discover and tell their stories. It will look at the stories we tell ourselves and the stories we tell others. It will look at how our stories inevitably change and should be updated.