October 14, 2023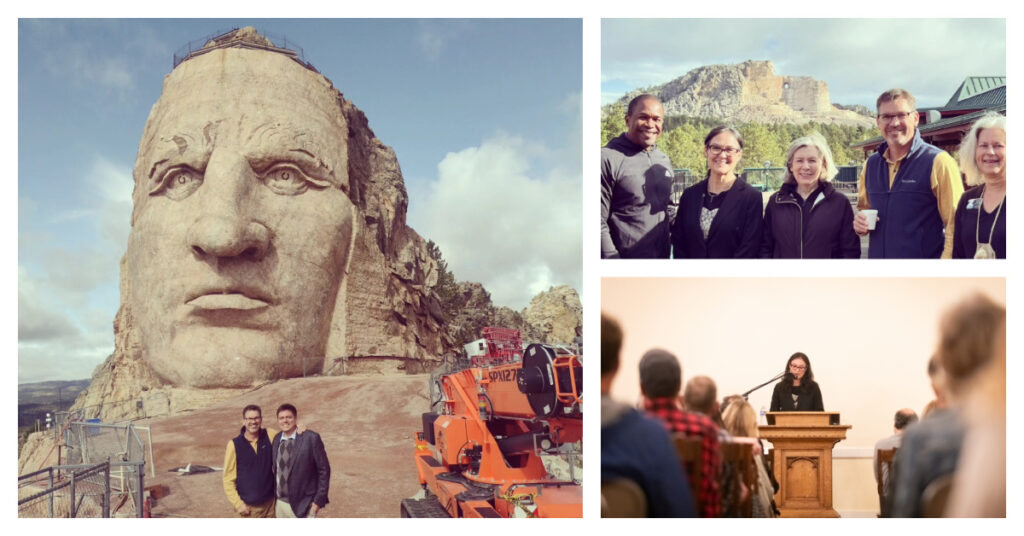 The 2023 South Dakota Festival of Books included two special attendees this year: National Endowment for the Humanities (NEH) Chair Shelly C. Lowe (Navajo) and Senior Deputy Chair Anthony Mitchell.
"Chair Lowe and Senior Deputy Chair Mitchell were keenly interested in the many aspects of South Dakota culture and how the NEH could support statewide efforts. They drove through several unique landscapes in western South Dakota, which contributed to their understanding of how our environment impacts our culture," said South Dakota Humanities Council Executive Director Ann Volin.
The NEH is one of the most prominent sponsors of humanities programs in the United States. Their support helps facilitate teaching and learning while strengthening endeavors to explore and expand the humanities.
As engaged tourists, the officials encountered South Dakota's prairies, Badlands, and free-roaming horses while visiting locations in Pine Ridge Reservation. For Mitchell's first visit to South Dakota, he succeeded in trying a "delicious" buffalo burger in Rapid City.
A particular highlight for Lowe and Mitchell was their visit to the Crazy Horse Memorial, including a trip to the top of the sculpture and walking out on Crazy Horse's arm, along with SDHC's board members Joshua Rudnik and Stephen Williamson.
They participated in the Festival of Books as well. Lowe moderated the session "Writing about Missing and Murdered Indigenous Persons" with panelists David Grann, Geri Gutwein, Debra Magpie Earling, Joseph Marshall III, Lily Mendoza, and Tanaya Winder. The standing-room-only session heightened awareness on the topic through civil conversation. The hour-long panel was recorded and is available on SDHC's Facebook page
Follow in Lowe's and Mitchell's footsteps by clicking the links below.
The Heritage Center at Mahpiya Luta/Red Cloud: One of the earliest cultural centers and museums located on an Indian reservation in the United States, The Heritage Center represents North America's Native community and the skill and creativity that remain mainstays of the local Lakota and other Native American cultures. More than just a museum or art gallery, The Heritage Center is an economic engine on the Pine Ridge Reservation. Mahpiya Luta also has a Food Sovereignty program and a Lakota immersion program that extends K-5th grade.
Remembering the Children Memorial: An organization dedicated "to honor the lives, memories, and spirits of the children and relatives who passed away at the Rapid City Indian Boarding School and the Sioux Sanatorium TB Clinic." Located on the site of a federal assimilation school, the Rapid City Indian Boarding School, this project is developing a memorial to remember the children who died there from 1898-1933 and honor them in culturally appropriate ways. The organization brings together the community through events, documentary screenings and oral history. Visit their site to see the ongoing construction of memorial sculptures, commissioned artwork and ceremonial spaces, both traditional and emergent.
Crazy Horse Memorial: "My fellow chiefs and I would like the white man to know that the red man has great heroes also." – Chief Henry Standing Bear. The memorial is a monument dedicated to Crazy Horse and other Lakota leaders. The Foundation's mission is "to protect and preserve the culture, tradition, and living heritage of the North American Indians" and keep the promise Korczak made to Chief Standing Bear.
Oglala Lakota College: Rebuilding the Lakota Nation Through Education. OLC's mission emanates from the charter of the Oglala Sioux Tribe. They educate students for professional and vocational employment opportunities in Lakota country by teaching its culture and language. The graduates, grounded in Wolakolkiclyapi, are engaged participants in a multicultural world. The focus on tribal, cultural, academic and community elements prepares students to be self-fulfilled through the OLC framework for leadership development.
Racing Magpie: A Lakota-centric arts and culture organization. A modern Native gallery with many offerings and Native artist support, Racing Magpie has affordable artist studios, community and arts events space. It also provides Native arts and arts-focused consultation to Native artists, art collectors, Native communities, and art and cultural organizations. This can include artist professional development, museum planning support, research and writing, collection development and documentation, appraisal, and event coordination.
Learn more about the nationwide crisis of Missing and Murdered Indigenous Women (MMIW) through the Urban Indian Health Institute Report and South Dakota's Red Ribbon Skirt Society on Facebook
---
Learn more about humanities programming in South Dakota by signing up for SDHC e-Updates!