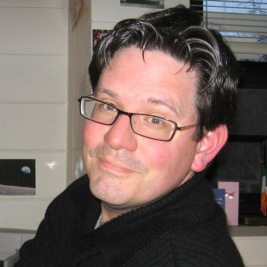 Topics: Anti-racism, History, Literature, Poetry, Writing
Community: Sioux Falls
Program Types: Speakers Bureau, Virtual Program(s)
www.patrickhicks.org
patrick.hicks@augie.edu | (605) 274-5434
The History of Auschwitz
Hicks will discuss how this notorious concentration camp grew in size from 1939 until 1945, and talk about what it means for us today. He can also discuss his novel, The Commandant of Lubizec, which is based upon Auschwitz and the other Operation Reinhard camps. Photos of the camp and discussion are part of this accessible talk, which has been given to many high schools and other venues throughout South Dakota.
Writing Fiction, Writing Poetry
Acclaimed author and poet, Hicks conducts a workshop that helps participants understand the writing life, how to hone their craft, and learn more about the power of words.
The Rise of the Third Reich
How did Hitler come to power and how was German democracy eroded by the Nazis? In this lecture (with Q&A), Hicks will discuss the events that gave rise to Nazism. He has given this presentation many times across South Dakota to various high schools and organizations.
In the Shadow of Dora
What are the intersections between the Holocaust and landing on the moon? What role did Nazi science have upon the Space Race? Hicks discusses how a little-known concentration camp directly affected America's space program. Additionally, he offers a reading and converses on research he conducted at the Kennedy Space Center, the Johnson Space Flight Center in Houston, and the Marshall Space Flight Centre in Alabama.