July 2, 2022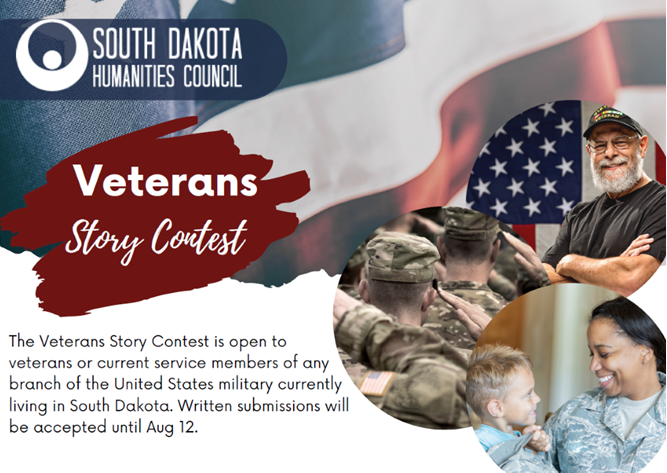 The South Dakota Humanities Council is sponsoring a storytelling contest for veterans that will culminate with an awards ceremony at the annual South Dakota Festival of Books Sept. 23-25 in Brookings.  
Written submissions will be accepted until Aug. 12 for the Veterans Story Contest, which is open to veterans or current service members of any branch of the United States military currently living in South Dakota.
Submissions should consist of new, unpublished material addressing the military experience, such as recovery or lessons learned. Individuals may submit up to 1,500 written words in any format — poetry, prose, fiction, creative nonfiction, etc. There is a limit of one submission per person. Entries must include name, address, phone and email.
Three finalists will be invited to the South Dakota Festival of Books in Brookings for a reading of their work with U.S. Army veteran and 2022 Festival author Colin Halloran, who will announce the winners and hold a workshop specifically for veterans.
After injuries forced his medical evacuation from Afghanistan, Halloran began writing about his experiences and traveling the country to help other veterans find a path to healing through the creative process.
"I've had workshops where I've had a recently returned Iraq vet and a Vietnam vet who's been home for 50 years, and you see through the process of writing and sharing stories just how much they have in common," he said. "My goal is always to leave people with the tools that they will need to start sharing and shaping their story."
Halloran has documented his combat experiences in Afghanistan in his memoir-in-verse Shortly Thereafter, which won the 2012 Main Street Rag Poetry Books Award and was named a Massachusetts Must-Read Book. He has also published the poetry collections Icarian Flux and American Etiquette, along with many essays and short stories. When not writing, Halloran leads workshops that seek to promote personal and international healing and reconciliation through writing and the arts.
The South Dakota Humanities Council, a statewide humanities organization that hosts the annual Festival of Books, will work with the finalists to support their attendance at the Festival on Sept. 24 in Brookings. Writers do not need to attend the festival to submit work. A representative can read the author's work on the finalist's behalf.
Prizes will be awarded for first, second, and third place.
Stories should be submitted to:
Carolyn Marshall-Speakman
carolyn@sdhumanities.org
1215 Trail Ridge Rd Ste A
Brookings, SD 57006
If you have questions or would like more information, contact SDHC at 605-688-6113 or visit the Veterans Story Contest webpage.
---
Learn more about humanities programming in South Dakota by signing up for SDHC e-Updates!