"We the People" – A Weekly Column by David Adler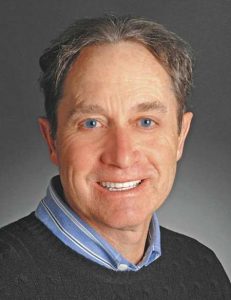 David Adler, Constitutional scholar and journalist, uses his column "We the People" to promote the public's understanding of, and appreciation for, the Constitution. As a component of the South Dakota Humanities Council's mission to encourage civil conversation, the council is providing program funding to make "We the People" available free-of-charge throughout the state via the South Dakota Newspaper Association.
"We the People," published weekly, covers different aspects of the U.S. Constitution, such as explaining the meaning of provisions, examining Supreme Court decisions, and promoting civic education.
"The Constitution is all-Broadway, all the time, in the life of our nation," Adler said. "Knowledge of the Constitution, to borrow from James Madison, empowers the citizenry to promote governmental transparency and accountability and to participate effectively in the great debates of our time."
Adler discusses many topics in his deciphering study of the Constitution. Some of his recent works focus on gender equality, freedom of speech, and whether a president can be subpoenaed.
New articles are published here weekly!
September 19, 2023

Justice Louis D. Brandeis: "The People's Attorney"

September 13, 2023

Justice Holmes Influences Business of Judging

September 6, 2023

Justice Holmes: A Legend Before Joining the Supreme Court

August 30, 2023

Trump Use of Scottsboro Boys Case Inapt and Reckless

August 23, 2023

Justice Joseph Story: Most Scholarly of Justices

August 16, 2023

Chief Justice Marshall: Unpretentious, Modest and Humble

August 9, 2023

"John Marshall: The Great Chief Justice Transforms the Court"

August 1, 2023

Justice James Wilson: Leading Constitutional Architect

July 26, 2023

John Jay: First Chief Justice, Diplomat, Founding Era Giant

July 19, 2023

Judicial Profiles to Better Understand the Supreme Court

July 12, 2023

Constitution Does Not Shield Presidents from Defamation Suits

July 5, 2023

Declaration of Independence: Advancing American Ideals

June 28, 2023

Court Rejects Radical Legislative Theory, Defends Democracy

June 21, 2023

Trump Trial Challenges American Democracy and Rule of Law

June 13, 2023

Trump Trial Tests the Framers' Constitution and the Rule of Law

June 7, 2023

Why Congress May Impose Ethics Code on Supreme Court Justices

May 31, 2023

Reader Asks: How Do We Rein in Supreme Court Justices?

May 25, 2023

Is Posting of Ten Commandments in Schools Constitutional?

May 17, 2023

Presidential Power, the 14th Amendment and the Public Debt

May 9, 2023

In Defense of Clergy, the Court Strikes Blow for Religious Liberty

May 3, 2023

Church and State: The Court Prohibits Religious Tests for Office

April 26, 2023

The Supreme Court's First Big Decision on State Powers

April 19, 2023

Justice Chase's Impeachment and Judicial Independence

April 12, 2023

Applying Impeachment Clause to Supreme Court Justices

April 5, 2023

Trump's Case: When Novel Theories Become Legal Principles

March 30, 2023

University of Wyoming Transgender Lawsuit: Who is a Woman?

March 22, 2023

Vulnerable to Indictment, Trump's Cases Subject to the Law

March 15, 2023

Court Declares a Right to Contraceptives for Unmarried Individuals

March 8, 2023

Court Finally Ends Race Discrimination in Public Accommodations

March 1, 2023

Supreme Court in Nebbia: "An Ominous Fork in the Road"

Feb 22, 2023

The Supreme Court Delivers Landmark Victory for Farmers

Feb 15, 2023

Mike Pence Seeks Refuge in the Speech or Debate Clause

Feb 8, 2023

State of the Union Address: The Constitution and Politics

Feb 1, 2023

The First Amendment and Free Speech on Campus

Jan 25, 2023

The Constitution and Government Classification of Secrets

Jan 18, 2023

Tinker v. Des Moines: Anchoring Students' Free Speech Rights

Jan 11, 2023

Buck v. Bell: The Supreme Court Upholds Forced Sterilization

Jan 4, 2023

Powell v. McCormack: Confining Congress to the Constitution

Dec 27, 2022

At Year's End: A Duty to Protect our Constitutional Democracy

Dec 20, 2022

Constitutionally Speaking, A Former President May Be Prosecuted

Dec 14, 2022

Law and History Reject Unlimited Legislative Power

Dec 7, 2022

Donald Trump's Call to Terminate the Constitution

Nov 30, 2022

Lynch v. Donnelly: Christmas Creche and the Constitution

Nov 22, 2022

Near v. Minnesota: Bulwark of Press Freedom

Nov 15, 2022

Blaisdell: Constitutional Flexibility in the Face of Crisis

Nov 8, 2022

Before the Court: The Future of National Unity

Nov 3, 2022

Affirmative Action in Universities: Has it a Future?

Oct 26, 2022

Presidents and Former Presidents are Subject to Subpoenas

Oct 19, 2022

Equal Protection: Serving Sons and Daughters

Oct 8, 2022

Muller v. Oregon: Protection for Women in the Workplace

Oct 5, 2022

Supreme Court in 1873: Women Unfit to Practice Law

Sept 27, 2022

U.S. v. Smith: No Presidential Power to Initiate War

Sept 21, 2022

A Little-Known Landmark Ruling of Historic Dimensions

Sept 11, 2022

The Court Protects the American Labor Movement

Sept 5, 2022

The Court, the Minimum Wage Ruling and the Holy Ghost

Aug 31, 2022

Shelley v. Kraemer: "My Little Soul is Overjoyed"