March 11, 2023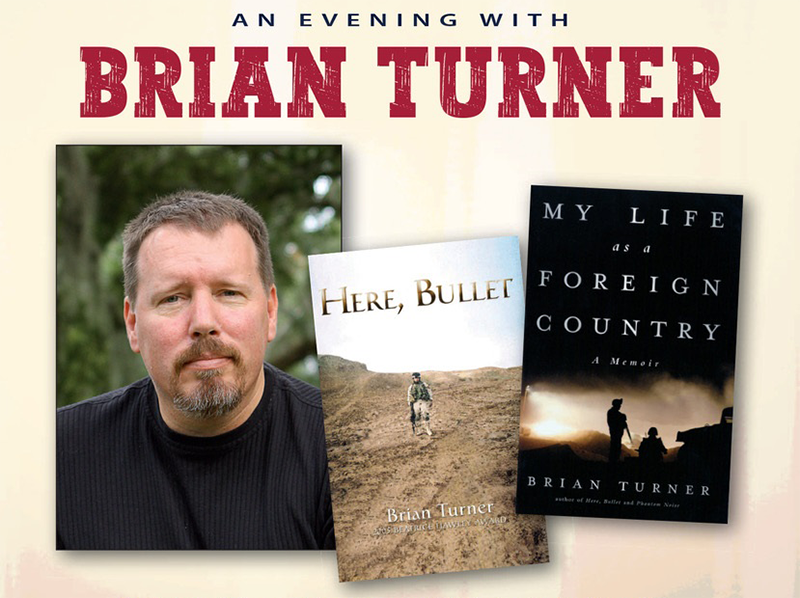 March 20 marks the 20th anniversary of the beginning of the Iraq War. To consider the meaning of this milestone, U.S. Army veteran and award-winning author Brian Turner will share his stories at events in Sioux Falls.
The public is invited to the free lecture, "An Evening with Brian Turner," at 6 p.m. Monday, March 20 in the Froiland Science Complex at Augustana University. A book signing will follow.
Turner will also present a free Veterans' Writing Workshop from 2-4 p.m. Tuesday, March 21 at the Center for Western Studies at Augustana. All veterans are welcome to discuss their wartime and homecoming experiences, to examine how writing can help them process those experiences, and to participate in writing exercises.
Patrick Hicks, Writer-in-Residence at Augustana, is eager to host Turner and share his first-hand account of the Iraq War with the campus and community.
"Turner's poetry and prose is accessible and unflinchingly honest, and he helps us understand his experiences in Baghdad, Mosul, and Kirkuk," Hicks said. "Turner will help Augustana students and the larger Sioux Falls community to see the power of poetry to heal and explain, and he will necessarily force all of us to see the war in a way that we usually have not."
Hicks calls Turner, who served in Iraq with the 3rd Stryker Brigade Combat Team, 2nd Infantry Division, a powerful voice for veterans and civilians alike. He was heavily involved in the Oscar-nominated documentary Operation Homecoming, and his poem "The Hurt Locker" was the inspiration for the film of the same name.
"Turner has been a vocal advocate not only for veterans, but also for the Iraqi people themselves," Hicks said. "He asks hard questions about what it means to go to war – and return from it. He believes in civil discourse, listening to the marginalized, finding awe in foreign cultures, and discovering expression for what it means to be human."
More About Brian Turner
Turner's award-winning poetry has been published in prestigious literary journals around the world and shortlisted for the coveted T.S. Eliot Prize in England. The recipient of an NEA Fellowship in Poetry and an Amy Lowell Travelling Scholarship, he has made appearances on NPR, PBS, and the BBC. Turner has been a correspondent with National Geographic, and he has addressed West Point, the Air Force Academy, and the Naval Academy. Much of his work – Here, Bullet (2006), Phantom Noise (2010), and My Life as a Foreign Country (2014) – explores what it means to be a soldier and a human being during a time of war.
Turner's activities in Sioux Falls are sponsored by the South Dakota Humanities Council, along with the Union Board of Governors and the English and Journalism Department at Augustana University.
For more information, please contact Patrick Hicks at 605-274-5434 or patrick.hicks@augie.edu.
---
Learn more about humanities programming in South Dakota by signing up for SDHC e-Updates!