2023 Shakespeare Festival Brings the Bard to South Dakota
June 10, 2023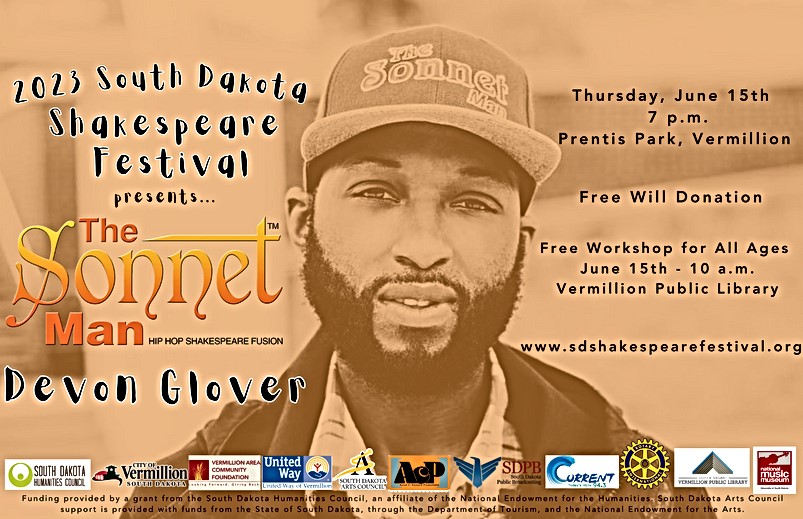 Break out your scrunchiest ruffs and poofiest dresses and head to Vermillion for the annual South Dakota Shakespeare Festival (SDSF), June 11-18!
The week of the festival is packed with activities to commemorate the legendary Bard of Elizabethan England – William Shakespeare – including a Bark with the Bard 5K, an improv night, and an all-ages workshop at the Vermillion Public Library.
SDSF's 2023 season includes three program areas: 1) theatre arts workshops for youth that explore such topics as acting principles, approaching Shakespeare, and Elizabethan costume crafts, 2) professional productions of Shakespeare programming, and 3) additional outreach programs in partnership with local and regional schools and organizations.
Highlights for this year's festival include a performance by special guest artist Devon Glover, "The Sonnet Man," on June 15. He brings Shakespeare to young audiences in genres they know and love: rap and hip-hop.
SDSF's 2023 season, "A Celebration of Shakespeare," features three straight nights of performances June 16-18. These shows are an amalgamation of various Shakespearean plays, with a few sprinklings of original creation tossed in to create a memorable theatre experience.
This annual event brings Shakespeare's works and legacy to life in a way that few South Dakotans get to see in their home state. "The Festival this year has a variety of events – something to engage everyone in the community," said Rebecca Bailey, SDSF Interim Artistic Director. "SDSF has been fortunate to be a part of the Vermilion community for so many years, and this year we want to celebrate that relationship. SDSF offers professional productions in the hope that we can continue to bring together communities and ideas through theatre."
The 2023 Shakespeare Festival is supported in part by a $12,800 grant from the South Dakota Humanities Council. Since its inception in 2012, SDSF has committed to keeping all events free and open to the public.
SDSF's mission is to engage, connect, and inspire communities by exploring shared human experiences through inclusive, professional Shakespeare productions and theatre arts education. The organization's focus is on the values that encompass access, inclusion, integrity, and artistic excellence.
Through partnerships with local and regional schools and organizations, SDSF produces free, world-class performances in Vermillion, accompanied by a wide array of education and engagement programming They seek to create theatre and build audiences that reflect and nourish the diversity of South Dakota communities.
South Dakota Shakespeare Festival 2023 Schedule
Bark with the Bard 5K – Sunday, June 11 at 3 p.m. – A pet-friendly walk/run starting and ending at the Prentis Park Band Shell – 800 E Clark St
"Shakespeare in Love" Movie – Monday, June 12 at 7 p.m., Coyote Twin Theater – 10 E Main St
Shakespeare Trivia – Tuesday, June 13 at 8 p.m., Dakota Brick House – 15 W Main St
Adult Shakespeare Improv – Wednesday, June 14 at 8 p.m., Varsity Pub – 113 E Main St
Hip-Hop Shakespeare with "The Sonnet Man," Devon Glover – Thursday, June 15 at 7 p.m., Prentis Park – 800 E Clark St
"A Celebration of Shakespeare" performances – Friday-Sunday, June 16-18 at 7 p.m., Prentis Park – 800 E Clark St
To learn more about 2023 SDSF activities or to check out events you can't attend in person, visit www.sdshakespearefestival.org or www.facebook.com/SoDakShakespeareFestival
This free-will donation event is accessible for all.
---
Learn more about humanities programming in South Dakota by signing up for SDHC e-Updates!