Bill Markley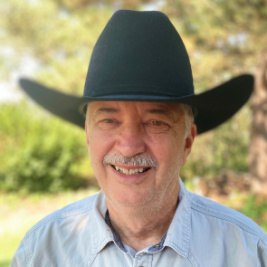 Topics: American Old West, Black Hills, History, Literature, South Dakota, Writing
Community: Pierre
Program Types: Speakers Bureau, Virtual Program(s)
https://www.billmarkley.com/
markley@pie.midco.net | (605) 280-8580
Searching for Truth in the Old West
There are at least two sides to every story, and this presentation will give them to you. Why did Jack McCall kill Wild Bill Hickok? Who wanted Crazy Horse killed? Did Butch Cassidy and the Sundance Kid die in Bolivia? Did Buffalo Bill ride for the Pony Express? Could Custer have survived the Little Big Horn? Who was responsible for Wyoming's Johnson County War? Why did the James/Younger Gang raid Minnesota's Northfield Bank? Where and when did Sacagawea die? Sitting Bull's two graves. Was Tom Horn guilty of murder? And more …
Plainsmen Wild Bill Hickok & Buffalo Bill Cody, Lawmen Wyatt Earp & Bat Masterson, Outlaws Billy the Kid & Jesse James, and Native American Leaders Geronimo & Sitting Bull
Markley has authored award-winning books comparing the lives of these Old West characters and he can tailor the presentation to offer specific aspects of their lives. For instance, many may be interested in Wild Bill Hickok's time in Deadwood. Did he have an affair with Calamity Jane? Why did Jack McCall shoot him? What is the truth behind the poker hand he held, aces and eights, the Deadman's hand.
Deadwood, the First Months
Deadwood Dead Men is the title of Markley's historical novel based on actual events in Deadwood in August 1876. Markley discusses his research into Deadwood's past, its characters, and the events that unfolded in the mining boomtown. He also discusses the processes of writing fiction and nonfiction.
"Dances with Wolves"
2023 marked the 33rd anniversary of the release of "Dances with Wolves." Markley was involved as a reenactor in its filming and appeared in scenes of the opening Civil War, Fort Hays where Dunbar was sent further west, and the final scene where the cavalry searched for the Lakota village in Spearfish Canyon. Markley kept a journal and has published it as "Dakota Epic." Markley also discusses the process of journaling.
Dakota Territory Topics
Markley can discuss topics including the quarries at Pipestone, Minnesota, Lewis and Clark's Corps of Discovery, Kenneth McKenzie and the Choteau Family fur trade, the Fort Pierre to Deadwood Trail, North Dakota's Fort Dilts, murders of Bummer Dan, Spotted Tail, Wild Bill Hickok, and Deadwood's China Doll. Is the guidon at the Cultural Heritage Center from the Battle of the Little Big Horn?