Dakota Daughters Program Gives Voice to the Past
May 28, 2022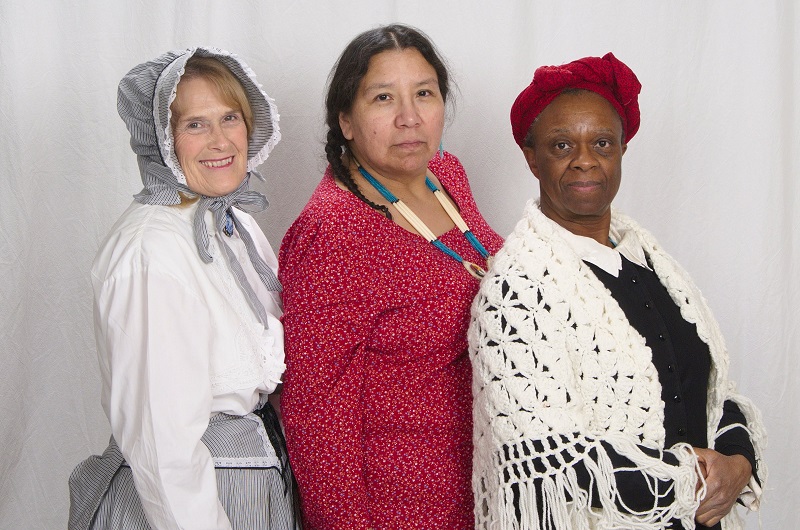 Dakota Daughters, a long-running and popular South Dakota Humanities Council Speakers Bureau program, recounts the Wounded Knee Massacre in a way that sheds light on the human experiences of those involved.
The educational and entertaining program, "Wounded Knee 1890, Three Women, Three Lives, Three Cultures," was *originally scheduled to be presented as part of the Sturgis Art Festival at Sturgis Rally Point (Sturgis, SD) at 2 p.m. on June 4.
*Due to unforeseen circumstances, the Dakota Daughters will instead present "Daddies Dreams" on June 4. The "Daddies Dreams" performance recounts the heroism and antics of two of the Dakota Daughters' fathers, one father an Air Force veteran and the other a WWII veteran.
Through the voices of SDHC scholars Joyce Jefferson, Geraldine Goes In Center, and Lillian Witt, audiences experience a contemplative, Chautauqua-style retelling of history by three women from diverse cultures (one white, one black, one Lakota) in the late 1800s. Although the character portrayals are fictionalized, the historical representation is based on the actual events, materials, and arts of that period.
Jefferson, a Rapid City resident, hopes that attendees will reflect on the lasting impressions that history still has on today's events.
"I hope that they can see how yesterday still impacts today. And that a lot of the issues that occurred yesterday are still with us in some shape or form."
The trio, who have presented together for many years, continue to research and study their characters and refine the presentation. In 2006, the group gave a keynote program for the annual meeting of the National Association of Interpretation, and they recently presented at the annual meeting of the South Dakota Education Association – Retired.
The Dakota Daughters program in Sturgis is part of the 2nd Annual Sturgis Arts Festival. It is free and open to the public, with no registration required.
---
Learn more about humanities programming in South Dakota by signing up for SDHC e-Updates!