"Drowning in Dirt" Explores Effects of Dust Bowl
February 25, 2023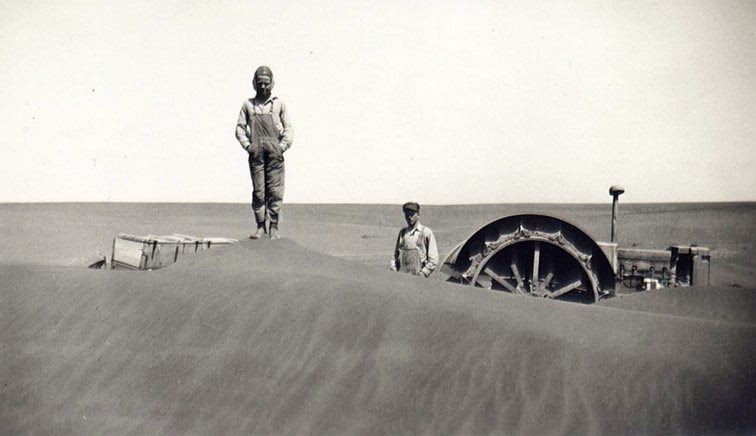 The violent dust storms that blackened South Dakota's skies during the "Dirty Thirties" took a human toll as well as an environmental one. A new exhibit illuminates the challenges of the era with multi-media reports from the front lines.
The South Dakota Agricultural Heritage Museum will celebrate the opening of "Drowning in Dirt: Joseph Hutton and the Dust Bowl" with a reception from 4:30-7 p.m. on Thursday, March 2. At 5:30 p.m., Dale Potts, associate professor of history at South Dakota State University, will present "South Dakota Soil Scientist Joseph Gladden Hutton, Soil Surveys, and the Dust Bowl 1930s."
The exhibit features the words and images of Hutton, who was not only the state soil scientist, but also a photographer, poet, orator, and radio show host. His blend of science, art, and humanities provides an excellent lens through which to view the Dust Bowl, said Gwen McCausland, executive director of the South Dakota Agricultural Heritage Museum.
"Hutton used photography not only in his research documenting how the environment changed due to intensive cultivation, but also in capturing the struggles farmers faced during the drought of the 1930s," McCausland said. "His research notes are a rich mix of field data and descriptions of the lives of the families he was trying to help. He expressed his frustrations and sorrow as he saw families working hard to survive just to have their crops buried in dust storms, losing everything, and having to abandon their farms."
This exhibit, supported by a grant from SDHC, was designed to travel. When it finishes its run at the Ag Museum in September 2024, it will be available for a small fee to museums, schools, libraries, and other venues around the state.
"We want to provide affordable educational opportunities beyond our four walls," McCausland said. "Our goal is to bring the museum to the people if the people cannot visit the museum."
While the exhibit remains on display at the Ag Museum, additional public humanities programs will provide opportunities for the public to examine related topics in greater depth. These may include the effects of environmental change on rural life, the demographic shifts caused by the economic collapse, and the Country Life Movement during the Progressive Era.
For more information, contact Sarah Jacobs, 605-688-4582 or Sarah.Jacobs@sdstate.edu.
---
Learn more about humanities programming in South Dakota by signing up for SDHC e-Updates!