Festival Reflections
October 1, 2022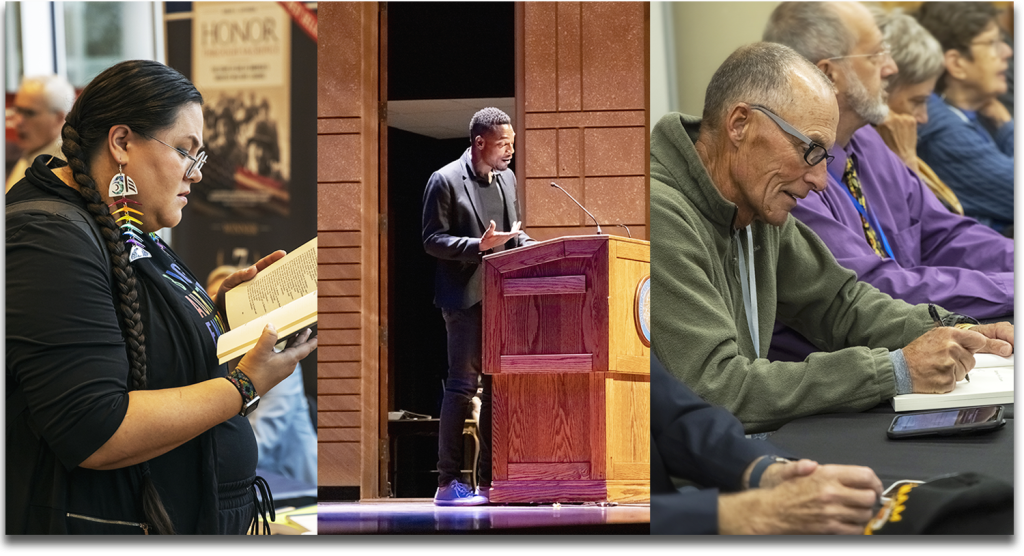 With the 20th annual Festival of Books in the rearview mirror, we are looking back and enjoying the memories we made. This week, we share reflections from two journalists who joined us at the 2022 Festival.
FESTIVAL OF BOOKS ENCOURAGES AUTHOR, READER INTERACTION
By Gracie Terrall for The Collegian
September 27, 2022
Last weekend's 20th annual South Dakota Festival of Books allowed readers and authors to share their love for the written word. This year's festival was the first in-person event in two years and the first time utilizing the Oscar Larson Performing Arts Center (PAC).
"We've felt how happy people were to be back together. I think there was a lot of enthusiasm for meeting authors face to face again," Jennifer Widman, director of the festival, said. "We really appreciate that many parts of the university and the city of Brookings and local businesses really stepped up and supported us in making sure that we could bring it back in person this year."
The festival is hosted every year by the South Dakota Humanities Council (SDHC), and this year, over $5,500 was received in donations. Widman said that money goes toward planning next year's event. Sixty-seven local and nationally known authors lined the halls of the PAC, selling their books and interacting with fans. Most non-local authors wrote about South Dakota or had previous ties with the state.
Click here to read the full article.
A FANTASTIC FESTIVAL FOR BOOKS WITH SOME FANTASTIC AUTHORS
By Terry Woster for Mitchell Republic
(The opening of this column is being run with permission from the Mitchell Republic. Please consider supporting local journalism with a subscription.)
September 27, 2022
Mary Woster Haug, my little sister, talked about her latest book last weekend at the annual South Dakota Book Festival in Brookings.
My sister spent three decades of her professional life on the English faculty at South Dakota State University. After she retired, she and her husband, Ken, moved to Minneapolis to be close to grandchildren.
She has written two books. "Daughters of the Grasslands" came first. It's a memoir/travelogue about growing up on the Lyman County prairie and, later in life, spending part of a year on sabbatical in South Korea. Her latest book, part memoir and part history, is "Out of Loneliness." It's the story of an early 1960s murder in Chamberlain and how that event impacted my sister, in high school at the time.
Click here to read the full article.
---
We value your feedback! Please take this short online survey and let us know your thoughts about the 2022 Festival of Books.