Freelon Inspires Young Storytellers through AnceSTARS Residency
July 29, 2023

Human beings are natural storytellers, but sometimes they need a little guidance. In June, more than 3,700 South Dakotans got that guidance through the AnceSTARS project, produced by Levitt at the Falls and supported by an SDHC grant.
Coinciding with both Juneteenth and Father's Day weekend, AnceSTARS was a week-long residency program through which youth documented the stories of their ancestors and explored beat-making with Grammy-nominated multi-media content creator, author, musician, and educator Pierce Freelon. The residency was offered in collaboration with Augustana University/Promising Future's Avid Media Creation Summer Camp and Juneteenth Sioux Falls.
Rose Ann Hofland, Director of Communications and Community Engagement for Levitt at the Falls, was pleased with the way the residency inspired young people to engage with their individual and ancestral stories. She credits Freelon's unique combination of professional knowledge and personal warmth for the program's powerful impact.
"Pierce's residency provided a unique opportunity for inspiration for youth," Hofland said. "His passion for sharing African American history and celebrating arts excellence made him a wonderful scholar to engage. His unique skillset for making seemingly complex technology accessible and fun was also a great source of inspiration for the youth involved."
The most concrete result of Freelon's residency was the creation of podcasts by middle schoolers. Over five packed days, he not only motivated participants to express themselves, but also helped them develop the skills necessary to document, curate, produce, and archive ancestral stories. Listen to a five-minute podcast clip here: https://drive.google.com/file/d/1rfzxKGOJkGLtib_-24lNITi4N37uy6yi/view
Hofland is certain that Freelon's expertise and encouragement had a strong positive impact on the young people he worked with. "As an experienced entrepreneur/educator and an African American hip-hop creator, Pierce served as an amazing role model," she said. "He went above and beyond in his commitment to connecting with our community and inspiring the youth here."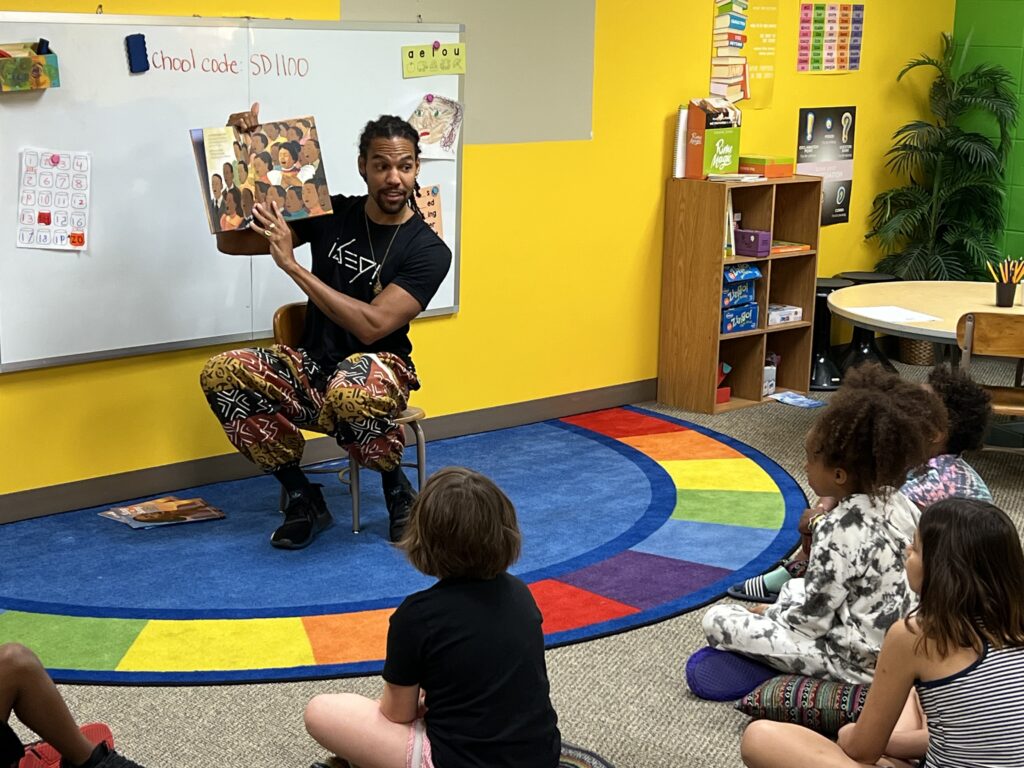 While Levitt at the Falls made a special effort to connect Freelon with BIPOC youth, his audiences included people of all ages and cultures. He held story times with preschool and early elementary audiences, taught beat-making and lyric-writing to K-12 students, and shared insight into the life of a working artist with teenagers and adults. Freelon's diverse slate of public activities also included a Music Maker Mixer, a BIPOC Arts Entrepreneurship Panel, and two concert performances.
Audience members clearly appreciated these opportunities for artistic inspiration and community connection. One attendee wrote, "I wish we could bottle the good vibes of this event and pump them out into the streets like a bakery wafting the scent of croissants. I wish our whole city felt like that room."
Freelon is the founder of Galactic South, a boutique children's media company, and Blackspace, an Afrofuturism digital makerspace for youth. He lives in Durham, North Carolina.
---
Learn more about humanities programming in South Dakota by signing up for SDHC e-Updates!