Humanities Awards Presented at Festival
September 30, 2023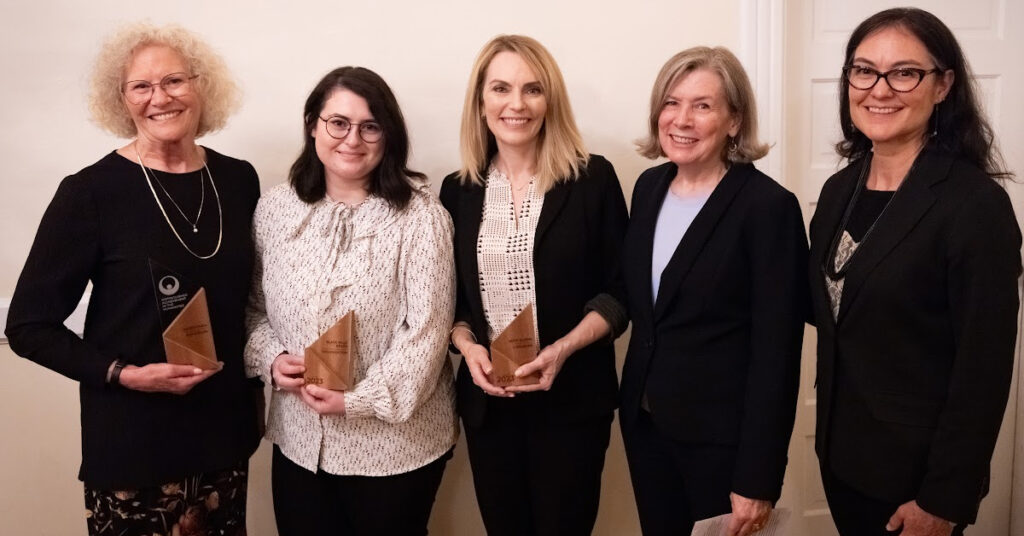 2023 Distinguished Achievement in the Humanities award winners Karen Hall, Misti Burns, and Hanna Glissendorf (Black Hills Reads) celebrate their recognition with Ann Volin, SDHC Executive Director, and Shelly C. Lowe (Navajo), Chair of the National Endowment for the Humanities.
Coordinating vibrant programs, hosting diverse events, and providing essential leadership, funding, and partnership to sustain a vibrant cultural landscape in South Dakota – during last weekend's South Dakota Festival of Books, the winners of the Distinguished Achievement in the Humanities (DAH) awards were recognized for doing all of this and more.
Since 1976, the South Dakota Humanities Council has recognized outstanding contributions to the study and understanding of the humanities through its DAH awards. Each year, these awards honor the unique spirit of an individual, a librarian, and an organization for their ongoing support and lasting impact on the humanities in South Dakota.
"The work of these awardees has positively impacted all the members of their communities, from the youngest to the oldest," said Ann Volin, SDHC Executive Director. "We are grateful for their dedication to making humanities programming available and accessible in every corner of our state."
Individual – Karen Hall, Rapid City
An environmental engineer with a degree in English Literature, Karen Hall has published novels and short stories set in two of the country's most fundamental industries: oil refining and hard rock mining. A past presenter at the South Dakota Festival of Books and member of the SDHC Board of Directors, she is a longtime member and past president of the Black Hills Writers Group. Under her leadership, BHWG published an anthology of short works by regional writers and several issues of a literary magazine. Hall has just finished her third novel, this one dealing with human trafficking in North Dakota's Bakken oilfields.
Librarian – Misti Burns, Winner
Misti Burns is the Library Director at Tripp County Library Grossenburg Memorial. She has conducted numerous SDHC events at the library, including annual One Book South Dakota discussions and programs from the Speaker's Bureau. She enjoys SDHC's Brainstorming the Human Connection series and helping at the South Dakota Festival of Books. Burns serves on the board of the Winner Resource Center for Families, the South Dakota Historical Society Foundation membership panel, and is a member of the South Dakota Library Association. She recently earned a Hometown Hero Award for her impact on the library's Teen Advisory Board.
Organization – Black Hills Reads, United Way of the Black Hills, Rapid City
Black Hills Reads has partnered with SDHC to bring the Young Readers One Book program to students throughout the Black Hills since 2015. Currently directed by Hanna Glissendorf, Black Hills Reads is an initiative through the United Way of the Black Hills that promotes early learning and literacy opportunities for children under nine. As a longstanding, engaged supporter of the Young Readers initiative, Black Hills Reads helps coordinate Young Readers Festival events, arranges author visits to schools throughout the Black Hills, and manages the distribution of more than 2,000 books to young readers each year.
---
Learn more about humanities programming in South Dakota by signing up for SDHC e-Updates!