Humanities on the Hill Another Success
April 1, 2023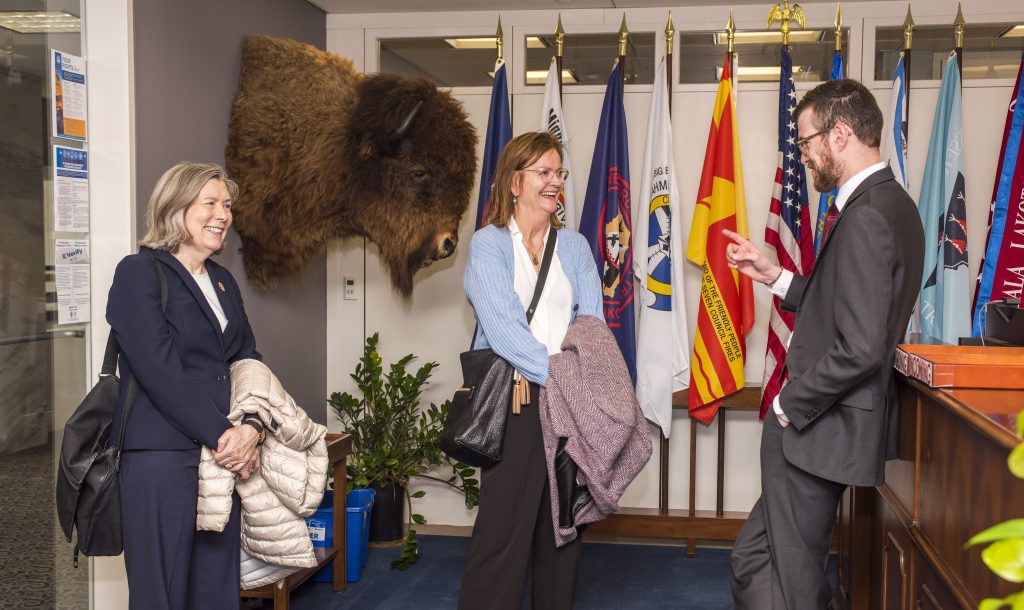 Two representatives of the South Dakota Humanities Council were warmly welcomed by the state's Congressional delegation in Washington, D.C., for Humanities on the Hill, March 8.
SDHC Executive Director Ann Volin and Board Chair Bobbie Bohlen traveled to the capital to meet with staffers from Representative Dusty Johnson, Senator John Thune, and Senator Mike Rounds' offices to share the latest updates on SDHC's activities.
"The humanities are really what I would call an apolitical organization," Bohlen said. "It's one area where we should all be able to set aside some of those things where we are different and come together to revel in those things that make us all human, those things that energize us and empower us. That was really driven home to me by this experience."
Volin said the SDHC representatives usually share information about the One Book South Dakota, which is The Seed Keeper by Diane Wilson for 2023, as well as grants given out for the year and any upcoming projects the council is working on.
"I think that's always well received because it shows how we're reaching out to every corner of South Dakota, from very small libraries in remote parts of the state to major auditoriums where we bring in public speakers for live learning," Volin said.
Bohlen said the representatives and staffers were amazed at the number of grants distributed every year and the different areas the grant money impacts. Volin and Bohlen also discussed last year's 20th annual Book Festival in Brookings and the preparations for the 2023 festival in Deadwood.
"All of them, particularly the young interns, were interested and amazed at the number of authors and the quality and the depth and breadth of the authors [from the 2022 festival]," Bohlen said.
The Federation of State Humanities Councils, which is SDHC's parent organization, helps create the advocacy day in Washington and invites all humanities councils around the country to participate.
"We were very welcomed by staff, and the offices are supportive of the humanities," Volin said. "We're grateful that they always meet with us and they like the work that we do; we're happy for that cordial relationship."
---
Learn more about humanities programming in South Dakota by signing up for SDHC e-Updates!