Introducing the 2022 Young Readers One Book: Smashie McPerter and The Mystery of Room 11
March 17, 2022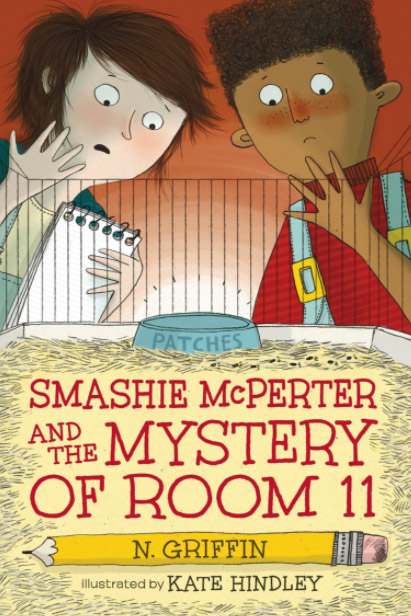 Authors often receive inspiration from routine life events. For N. Griffin, the inspiration for her disorganized but lovable character Smashie McPerter arrived during a phone call with a friend.
Referring to a reckless acquaintance whose name escaped her, she recalls saying, "you know, ah, Smashie McPerter."
"It was such a hilarious name immediately in my mind I knew who she was," Griffin said. "I knew she would be endearing and good-hearted but very hasty and make mistakes. I could see her dressing up in different suits."
Now young readers in South Dakota will have an opportunity to meet Smashie — and her creator. Smashie McPerter and the Mystery of Room 11 has been selected as the 2022 Young Readers One Book South Dakota.
"I'm so honored. I feel incredibly touched," Griffin said. "I'm very happy that my book was picked. I'm really excited and completely honored by it."
The book follows Smashie as she dons her "Investigator Suit" and uses her "thinking power" to solve the mystery of the missing class hamster. Along the way, she and her best friend Dontel learn some surprising facts about their classmates, whom Kirkus Reviews called "a singularly appealing group of kids" in a "nifty mystery for readers ready for a challenge."
MFA Grad Gets 'Flying Start' to Career
Griffin kicked off her career with the YA novel The Whole Stupid Way We Are, earning recognition as one of Publisher's Weekly's Flying Start Authors of 2013.
In a starred review, Publisher's Weekly said of her debut: "First-time author Griffin is good at depicting a small town where the many interconnections make it hard to know what to overlook and when to intervene, and she is equally tuned into the different ways people, adults and teens both, fail each other."
Griffin never doubted her path.
"I always knew I wanted to be a writer, and I never questioned that I would be writing for children," she said. "I think children are the most incredible audience you can have."
A graduate of the Vermont College of Fine Arts MFA program, Griffin has spent considerable time honing her craft. She enjoys writing for readers who are molding their perceptions of the world, combining her still-vivid memories of youth with the wisdom of adulthood.
"The feelings of growing up are always universal and the same," she said. "I feel like I'm still attuned to that and like to write to reflect my empathy and excitement about those stages."
She said writing is a way to help children at various stages of development.
"I want kids to feel understood. Empathy is the greatest gift you can give any other human. Compassion is the point."
Griffin also writes books for young adults and middle graders. Her new young adult thriller Trigger, described by publisher Simon & Schuster as "The Queen's Gambit meets The Hunger Games," will be released March 29.
Learn More
The South Dakota Humanities Council will provide copies of Smashie McPerter and the Mystery of Room 11 to 11,000 third graders prior to the 2022 South Dakota Festival of Books in Brookings Sept. 23-25. Griffin will speak to students in Brookings and Sioux Falls, and her presentations will be live-streamed and recorded so other young readers can enjoy them, too.
Read more about the Festival of Books.