Lawrence Diggs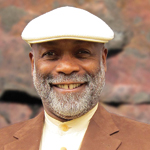 Topics: Communication, Education, Marketing, Music, Poetry, Prison Reform, South Dakota, Visual Art
Community: Roslyn
Program Types: Book Club to Go, One Book South Dakota, Pre-recorded Program Video, Speakers Bureau, Virtual Program(s), Young Readers One Book
https://www.ldiggs.com/
Independent Scholar
public@ldiggs.com | 605-486-4536
Connecting Communities
Humans are feeling beings that think, not thinking beings that feel. The motivation we feel to connect with others comes more from what we feel about them than what we think about them. This program presents ways to lower the resistance to meeting and interacting with people. Drawing on some groundbreaking research, it focuses on getting people to feel different. It has been shown that if people feel differently, they will likely think differently. In this interactive discussion you will discover what others are doing and what you can do to bring communities together.
Finding your Voice
Other people can't hear what you don't say. Saying what we feel or mean can be quite challenging. This presentation focuses on why your voice is important. It will explore some of the many ways you can make your voice heard. It will reveal how you can amplify your voice, with or without social media. Ideally this program should be done in two parts. The first part will discuss barriers to communication. The second part will give people a chance to practice improving their communication skills. One key part will be learning the effective use of a microphone.
Erasing Imaginary Lines
While we like to think of ourselves as "unique," we are much more alike than we are different. Erasing the imaginary lines that divide us will allow us to harness the full power of our humanity by allowing more mutual contributions to our lives. This program explores practical ways we can recognize and remove the imaginary lines that divide us with an emphasis on what we feel rather than what we think.
Lowering Prison Recidivism in South Dakota Prisons
The large number of people in our prisons represent a loss in human capital, broken families, and a large sucking sound on our state budget. Every inmate points to a certain failure of our institutions. Our state government is trying to reduce the numbers of inmates while ensuring public safety. But there is much the public could and should be doing to help fix this problem. As a chaplain in the state prison system, I speak with inmates about what they can do to be better citizens. This interactive presentation is intended to bring their ideas to you and bring your ideas to them.
The 3Ms
Representative democracy is all about "Doing the most good, for the most people, most often." Those three "Ms" should be the lens through which most social, political and governmental actions are viewed. They should be a standard by which most of our collective actions are judged. They should be the guiding principles of our personal efforts. This program explains and promotes this concept and shows practical ways to put it into action.