Norma Wilson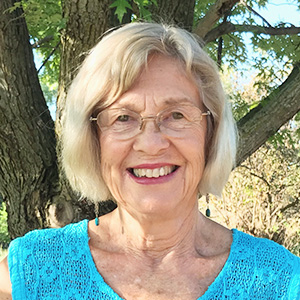 Norma Clark Wilson is a University of South Dakota English professor emerita. Nature is the primary focus of her poetry and prose. She is the author of Rivers, Wings & Sky, Under the Rainbow: Poems from Mojácar, The Nature of Native America, and many more. Four of her poems are featured in the film and book On Common Ground. Wilson lives in a geo-solar house with her husband, Jerry Wilson, on a prairie bluff northwest of Vermillion.
Featured Book: On Common Ground: Learning and Living in the Loess Hills
Website: http://sites.google.com/a/usd.edu/norma-c-wilson/
---
NORMA'S EVENTS:
Saturday, Sept. 23 @ 3:15 p.m. – Writing the Natural World: Readings from On Common Ground – The Lodge, Russell Room
Saturday, Sept. 23 @ 5:45 p.m. – A Reading by the Women Poets Collective– Martin & Mason Hotel, 1898 Ballroom
Saturday, Sept. 23 @ 4:30 p.m. – Author Signing Event – The Lodge, Bullock & Roosevelt Rooms
Click here to view the full Festival schedule.