Plan Your 2023 Reading with these Book Lists
January 7, 2023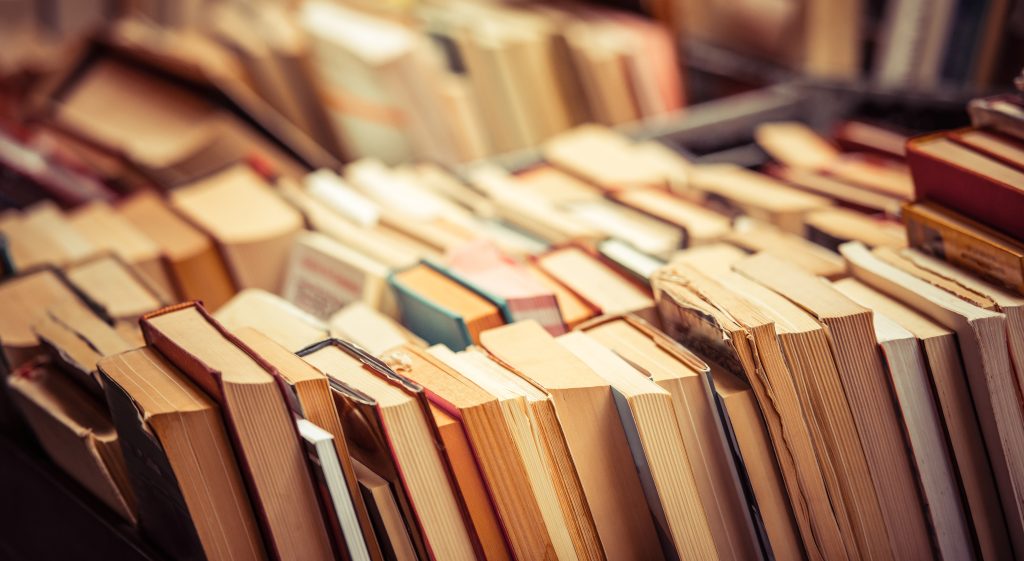 Your social media might proclaim, "New Year, New You," but here at SDHC we prefer, "New Year, New Books." Whether you're setting your reading goals for all of 2023 or just looking for some titles to curl up with on these cold winter evenings, we have suggestions for you! Read on …
Do you wonder which books the SDHC staff most enjoyed in 2022?
FICTION
A Ballad of Love and Glory by 2022 Festival presenter Reyna Grande
Once Upon a River by Diane Setterfield
The Lincoln Highway by Amor Towles
The Nickel Boys by Carson Whitehead
The Sentence by Louise Erdrich
NONFICTION
2022's One Book South Dakota, Our History Is the Future by Nick Estes
An Immense World: How Animal Senses Reveal the Hidden Realms Around Us by Ed Yong
Grading Smarter, Not Harder: Assessment Strategies that Motivate Kids and Help Them Learn by Myron Dueck
Little and Often by 2022 Festival presenter Trent Preszler
Subtract: The Untapped Science of Less by Leidy Klotz
These Precious Days by Ann Patchett
POETRY
Daily doses of poetic inspiration from https://poets.org/poem-a-day
Shortly Thereafter by 2022 Festival presenter Colin D. Halloran
The Trickster Riots by 2022 Festival presenter Taté Walker
---
Did you miss some of the best books of 2022?
From bestselling non-fiction like Siddhartha Mukherjee's The Song of the Cell and prize-winning biographies like Stacy Schiff's The Revolutionary: Samuel Adams to acclaimed novels like Gabrielle Zevin's Tomorrow, and Tomorrow, and Tomorrow and 2022 Festival presenter Emily St. John Mandel's Sea of Tranquility, some titles seemed to appear on list after list of the best books of 2022.
Because there are literally hundreds of year-end lists, created by everyone from beginning bloggers to esteemed critics, figuring out which books are truly great can be a challenge. To make sorting through the recommendations easier, the staff at LitHub.com examined 35 lists from 29 publications and collated the results. Find out which titles were 2022's most-mentioned here: https://lithub.com/the-ultimate-best-books-of-2022-list/
Another useful source is NPR's "Books We Love." This list includes 402 books from 2022 alone, and more than 3,200 since its inception in 2013. You can apply one or more of their 33 filters to find books that match your mood, fit your available time, or address your favorite topics. Personalize your recommendations here: https://apps.npr.org/best-books/#view=covers&year=2022
Do you want to know which 2023 releases are most anticipated?
Right now, people in the book world and far beyond are abuzz about Prince Harry's memoir, Spare, which hits stores Tuesday. But there are plenty more to look forward to, and maybe even preorder from your favorite bookstore!
Kirkus suggests these 40 books for readers of all ages: https://www.kirkusreviews.com/book-lists/40-most-anticipated-books-2023/#age-of-vice-kapoor

TIME lists 23 titles, organized chronologically by release date: https://time.com/6241190/most-anticipated-books-2023/

Today also arranges their picks chronologically and includes all of the Read with Jenna Book Club selections: https://www.today.com/popculture/best-new-books-2023-t272941
Do you want to try something new?
The new year is a great time to step outside your comfort zone by trying a new author, a new genre, or a new method of reading. Here are two possibilities:
Graphic Novels for Youth and Adults: https://mrusbooksnreviews.com/must-read-graphic-novels

Audible's "Best of the Best" Audio Books: https://www.audible.com/ep/best-audiobooks

Happy New Year and happy reading from SDHC!
---
Learn more about humanities programming in South Dakota by signing up for SDHC e-Updates!