SD Art Museum Hosts Signe Stuart Retrospective
October 7, 2023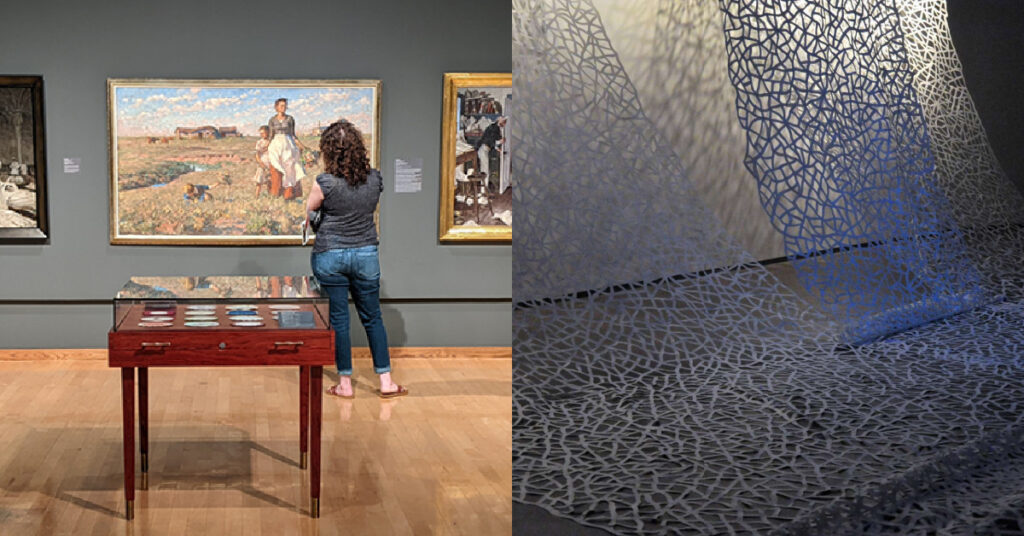 Over her six-decade career, Signe Stuart has created unique experimental works using multiple materials and has gained a reputation as one of South Dakota's leading artists. This month, the South Dakota Art Museum (SDAM) opens a retrospective exhibition of her work, enhanced by a catalog summing up her art and influence.
"Signe Stuart: Events in Time and Space" opens October 14 and runs through March 23, 2024. Stuart will appear at the Opening Reception and Artist Talk, 5-7 p.m. on Saturday, October 21.
With support from an SDHC media grant, SDAM will produce an accompanying catalog, available free to all visitors, which will provide an important scholarly analysis of Stuart's career. The catalog will include images of Stuart's work, a transcribed interview with Stuart conducted by art historian Mary Anne Redding, and articles written by art historians MaLin Wilson-Powell and Leda Cempellin. It will also include images of the artworks in the exhibition and a QR code link to images of Stuart's complete oeuvre.
Due to Stuart's influence, this catalog will likely become a cornerstone text of South Dakota art history literature, said SDAM Collections Curator Taylor McKeown. "Stuart's work deals with the ties that bind: science, nature, the finite and infinite," he said. "Through engagement activities and the associated catalog, the project will promote a discussion and consideration of our universal bonds."
Stuart taught at South Dakota State University from 1971 to 1994 and has lived and worked in diverse regions of the United States: East Coast, Pacific Northwest, Northern Plains, and Southwest. For the past 30 years, she has lived in Santa Fe, New Mexico, and the work she has done there is a significant focus of the project.
"The exhibition and catalog will show the influence of Stuart's years in South Dakota on her later works and give many visitors the first opportunity to view this part of her oeuvre," McKeown said. "Overall, this project will produce a multi-dimensional understanding of her career and, in effect, will become a cornerstone text of South Dakota art history literature."

Stuart's approach to art making relies on experimentation with painting materials and forms, often breaking from the standard rectangle and concepts of framing. As one of the leading artists living in South Dakota during the late 20th century, she has entered the canon of other preeminent artists from the state, including Harvey Dunn, Oscar Howe, Ada Caldwell, and Carol Hepper.
During the run of the exhibit, three special events will allow visitors to engage with Stuart's art and the project's scholars:
October 21, 10 a.m.-2 p.m. – Family Day – Gallery activities for all ages will celebrate and explore concepts highlighted in Stuart's work.
October 21, 5-7 p.m. – Opening Reception & Artist Talk – Signe Stuart will host a lecture discussing her career and her driving concepts; this will be recorded and made available virtually.
November, date/time TBD – BADLANDS Lecture – Leda Cempellin will host a lecture analyzing Stuart's 1989 installation BADLANDS and its relation to Native people's historic experience in the region; this will be recorded and made available virtually.
Additional engagement activities, including school field trips, will take place throughout the run of the exhibition.
Museum admission and activities are free, but some require reservations. To learn more, call 605-688-5423 or visit https://www.sdstate.edu/south-dakota-art-museum/exhibit/signe-stuart-events-time-and-space
---
Learn more about humanities programming in South Dakota by signing up for SDHC e-Updates!