SDHC Presents Veterans Story Contest Awards at Festival
November 11, 2023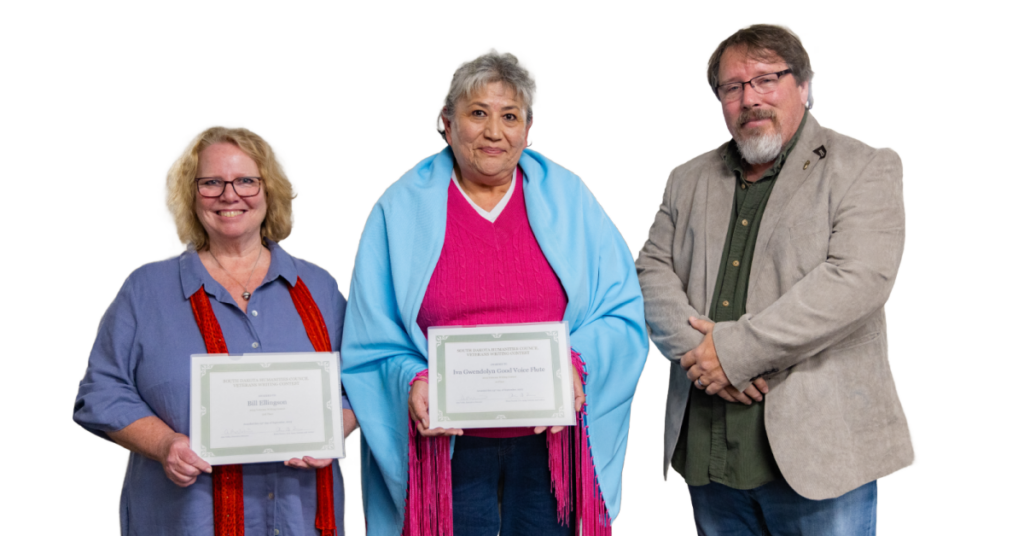 Picture above (L-R): Darcy Kennedy, daughter of Kenneth Rahn, subject of Bill Ellingson's second place story; first place winner Iva Gwendolyn Good Voice Flute; and Brian Turner, contest judge, U.S. Army veteran, and 2023 Festival author.
Author J.K. Rowling once said, "There's always room for a story that can transport people to another place." Several authors from across South Dakota recently shared such stories, allowing readers to be transported not just to another place, but another time, and to experience the realities of military service.
The South Dakota Humanities Council sponsors an annual Veterans Story Contest, open to veterans or current service members of any branch of the United States military currently living in South Dakota.
Awards for the top three stories were presented at the 21st annual South Dakota Festival of Books in Deadwood in September, with introductions by contest judge Brian Turner.
Turner awarded first place to U.S. Air Force veteran Iva Gwendolyn Good Voice Flute of Pine Ridge for her piece, "Over There and Back." Good Voice Flute's winning entry describes her unique experiences within the U.S. Air Force as both a woman and Lakota citizen.
Proud of both her cultural heritage and her military service, Good Voice Flute takes the reader on a journey through her experiences, from being asked to "shorten" her last name to experiencing feelings of isolation as one of only a few Native American Air Force service members at that time. In her words, "The U.S. Air Force has taught me that equality does matter." Good Voice Flute dedicated her story to the memory of her mother, Lillian Grace Tobacco.
The second-place award went to Bill Ellingson of Flandreau for "A Poignant Reminder of a Forgotten War." Ellingson's story is a tribute to Korean War veteran and survivor Kenneth W. Rahn. As a young man drafted into the U.S. Army to serve in Korea, Rahn returned to the United States as an amputee and a survivor of what has been referred to as "The Forgotten War."
The third-place winner is James Anderson of Mitchell for his submission "Grandma's Letter: A Mother's Expression of Grief and Faith." Anderson shares the experiences of a Gold Star family, including their journey through tragic loss during World War II and ensuing grief, from a letter written by a mother to her daughter.
Read their stories here: https://sdhumanities.org/veterans-story-contest/
---
Learn more about humanities programming in South Dakota by signing up for SDHC e-Updates!