Sherl Cederburg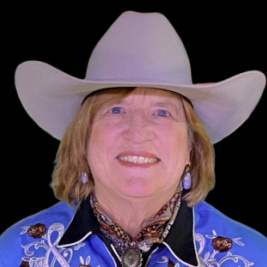 Topics: American Old West, Black Hills, History, Literature, Poetry, South Dakota, Women, Writing
Community: Hot Springs
Program Types: Speakers Bureau
1scederburg@gmail.com | (303) 748-1001 | www.sherlcederburg.com
Born to Ponder
Cederburg writes and recites her own poetry. Main themes are: horses, old west, new west, family, country, nature, prairie life, and faith; to make you laugh, cry, or at least think a little.
Write, Re-write, Re-write, Now Memorize and Recite
This presentation is an introduction to the steps of writing and performing poetry. Covered topics include: the importance of titles, using a good hook, memorization tools, confidence in front of an audience, and where to find inspiration. The program gives the audience some how-to steps to immortalize their stories.
Hearts of the Hills
Pegie Douglas and Sherl Cederburg are a musician/poet duo who present a musical glimpse of the Black Hills and the West. They will have you sitting around the campfire, riding the hills, and taking a walk back through history, stirred by their stories in song and poetry. Pegie's strong, beautiful voice and Sherl's meadowlark-in-the-morning crispness blend well together as they transition smoothly from song to spoken word.