July 16, 2022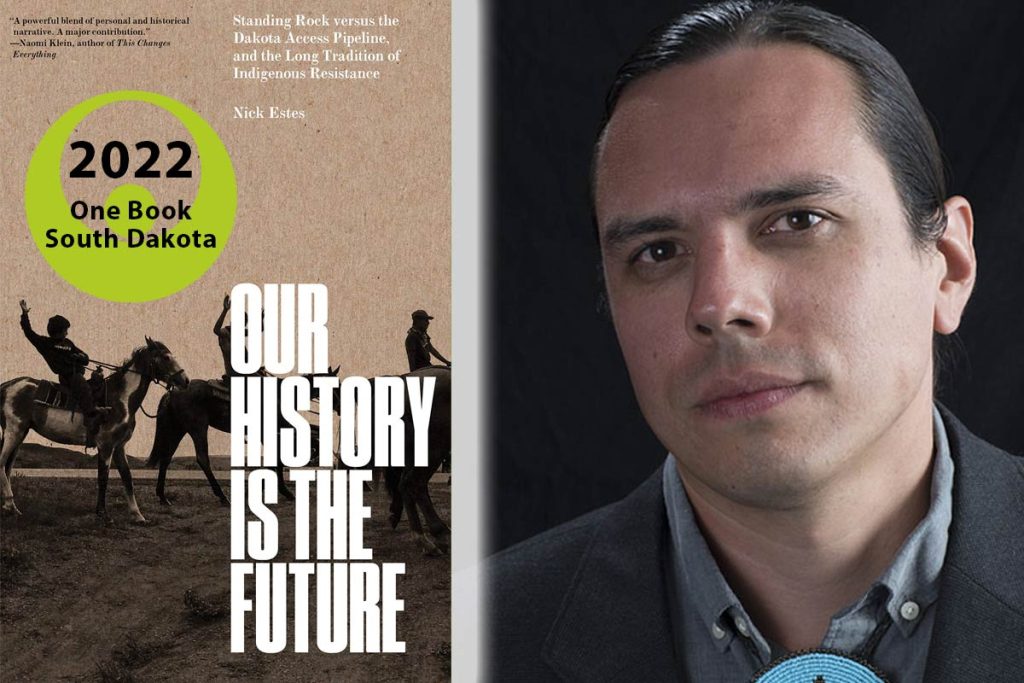 As he wrote the 2022 One Book South Dakota selection, Our History Is the Future, author Nick Estes described the Indigenous-led movement to stop the Dakota Access Pipeline in a way that he hoped would both educate and inspire readers. Now, those readers can speak directly with Estes as he travels the state on his One Book South Dakota Author Tour.
Estes will visit up to 10 communities throughout South Dakota this summer and fall, beginning with an appearance in Sisseton July 20. At each stop, he will talk about his research, writing, and personal experiences, answer questions from community members, and sign books. He will also give a keynote address at the 20th annual South Dakota Festival of Books, Sept. 23-25 in Brookings.
Our History Is the Future: Standing Rock Versus the Dakota Access Pipeline, and the Long Tradition of Indigenous Resistance addresses timely issues of regional relevance and puts them in the context of centuries of Indigenous resistance to injustice, with a particular focus on the experiences of the Oceti Sakowin – the Lakota, Dakota, and Nakota people. A native of Chamberlain and a citizen of the Lower Brule Sioux Tribe, Estes spent more than a decade researching the book, which fills a gap he saw in historical literature.
Estes hopes his book will provide inspiration for readers who learn about the humble origins and future-oriented goals of #NoDAPL and the movements that came before it.
"Many of our movements throughout history were started by humble people, and those humble people were the ones who changed history and changed the future of this planet," he said. "That's incredible. And that's something that I think everyone, whether you're Indigenous or not, should feel inspired by."
ONE BOOK SOUTH DAKOTA AUTHOR TOUR KICKOFF EVENTS
Wednesday, July 20, Sisseton 5:30 p.m. – Sisseton Wahpeton College (Rooftop of Vocational Education Building, or SWC Library in case of inclement weather), 12572 BIA Road 700. For more information, contact coordinator Delphine Hagel, 605-742-1104
Thursday, July 21, Aberdeen 7 p.m. – K.O. Lee Aberdeen Public Library, 215 Southeast 4th Ave. For more information, contact coordinator Cara Perrion, 605-626-7097
Additional events will take place in Pierre, Lower Brule, Mission, and other communities during the week of August 1-5, with more programs this fall. Watch sdhumanities.org for more information.
ABOUT NICK ESTES
Estes is a member of the Department of American Indian Studies at the University of Minnesota. Before that, he served as an Assistant Professor in the American Studies Department at the University of New Mexico.
For 2017-2018, Estes was the American Democracy Fellow at the Charles Warren Center for Studies in American History at Harvard University. In 2014, he co-founded The Red Nation, an Indigenous resistance organization. His research engages colonialism and global Indigenous histories, with a focus on decolonization, U.S. imperialism, environmental justice, anti-capitalism, and the Oceti Sakowin.
In addition to Our History Is the Future, Estes co-edited Standing with Standing Rock: Voices from the #NoDAPL Movement, which draws together more than 30 contributors, including leaders, scholars, and activists of the Standing Rock movement. With Melanie K. Yazzi, he was a guest editor of a special issue of Wicazo Sa Review (Spring 2016) on the legacy of Dakota scholar Elizabeth Cook-Lynn, one of the founders of American Indian Studies. His film and book reviews can be found in Environmental History, Native American and Indigenous Studies Journal, Harvard Business Review, and Abolition Journal. In 2015, Estes' reporting on bordertown violence and racism for Indian Country Today won a Third Place Prize for Excellence in Beat Reporting from the Native American Journalism Association. His writing is also featured in The Intercept, Jacobin, Indian Country Today, The Funambulist Magazine, and High Country News.
---
Learn more about humanities programming in South Dakota by signing up for SDHC e-Updates!