November 4, 2023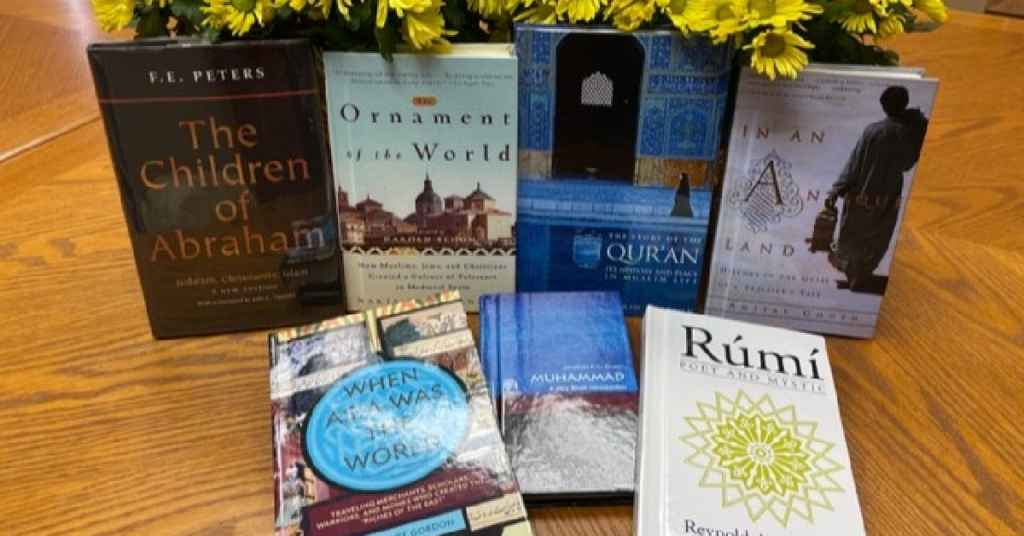 Every day, South Dakotans face new headlines about conflict in our world, and along with those headlines come questions about how to understand that conflict. The importance of bridging cultures, both within America and beyond its borders, has never been greater than it is today.
To help the state's residents better understand themselves and others, SDHC offers Book Club to Go, a packaged reading and discussion program for groups organized by individuals, libraries, bookstores, museums, and other organizations. A hidden gem amongst this collection is the Bridging Cultures Bookshelf: Muslim Journeys – a collection of books that encourages study and informed conversation about commonalities and mutual understandings across cultures.
Launched in 2013, the program addresses the need for trustworthy and accessible resources about Muslim beliefs and practices and the cultural heritage associated with Islamic civilizations. Several books in the collection also address the many ties between Islam and its fellow Abrahamic religions: Christianity and Judaism.
A joint project of the National Endowment for the Humanities and the American Library Association, the Bridging Cultures Bookshelf includes 25 books and four DVDs available for check-out. For book clubs, SDHC can provide multiple copies of 10 titles in the collection:
The Art of Hajj by Venetia Porter
The annual ritual pilgrimage to Makkah was established by the Prophet Muhammad in the last year of his life (AD 632). Over the following centuries the experience and importance of Hajj have been evocatively documented in countless ways. Venetia Porter's book highlights the pilgrims' journey across time, the sacred rituals of Hajj, and the city of Makkah itself.
The Children of Abraham by F.E. Peters
F.E. Peters, a scholar without peer in the comparative study of Judaism, Christianity, and Islam, revisits his pioneering work after 25 years. In this updated edition, he lays out the similarities and differences of the three religious siblings with great clarity and succinctness.
The House of Wisdom by Jimal-Khalili
When the best libraries in Europe held several dozen books, Baghdad's great library, The House of Wisdom, housed 400,000. Jonathan Lyons shows just how much "Western" ideas owe to the Golden Age of Arab civilization.
In an Antique Land by Amitav Ghosh
Once upon a time an Indian writer named Amitav Ghosh set out to find an Indian slave, name unknown, who some 700 years before had traveled to the Middle East. As Ghosh sought to re-create the life of his Indian predecessor, he found himself immersed in those of his modern Egyptian neighbors. Combining shrewd observations with painstaking historical research, Ghosh serves up skeptics and holy men, merchants, and sorcerers.
Leo Africanus by Amin Maalouf
Leo Africanus is the imaginary autobiography of the famous geographer, adventurer, and scholar Hasan al-Wazzan, who was born in Granada in 1488. His family fled the Inquisition and took him to the city of Fez, in North Africa. Hasan became an itinerant merchant, and made many journeys to the East, journeys rich in adventure and observation.
Muhammad: A Very Short Introduction by Jonathan A.C. Brown
This brief volume provides a superb introduction to the major aspects of Muhammad's life and its importance, providing both Muslim and Western historical perspectives.
The Ornament of the World: How Muslims, Jews, and Christians Created a Culture of Tolerance in Medieval Spain by María Rose Menocal
Widely hailed as a revelation of a "lost" golden age, this history brings to vivid life the rich and thriving culture of medieval Spain where, for more than seven centuries, Muslims, Jews, and Christians lived together in an atmosphere of tolerance, and literature, science, and the arts flourished.
Rúmí: Poet and Mystic by Reynold A. Nicholson
Jalalu'l-Din Rúmí was one of the greatest of the Persian mystical poets. In his writings he explored the profound themes of the nature of truth, of beauty, and of our spiritual relationship with God. Professor Nicholson translated this collection of mystical poems shortly before his death.
The Story of the Qur'an: Its History and Place in the Muslim Life by Ingrid Mattson
An insightful and authoritative introduction to the book at the heart of Muslim life, written by well-known Islamic scholar Ingrid Mattson.
When Asia was the World: Traveling Merchants, Scholars, Warriors, and Monks Who Created the "Riches of the East" by Stewart Gordon
While European civilization stagnated in the "Dark Ages," Asia flourished as the wellspring of science, philosophy, and religion. Stewart Gordon has fashioned a compelling and unique look at Asia from AD 700 to 1500—a time when Asia was the world—by relating the personal journeys of Asia's many travelers.
A full list of titles available through the SDHC Lending Library, along with details on how to host a program, can be found at https://sdhumanities.org/book-club-to-go/
---
Learn more about humanities programming in South Dakota by signing up for SDHC e-Updates!