December 10, 2022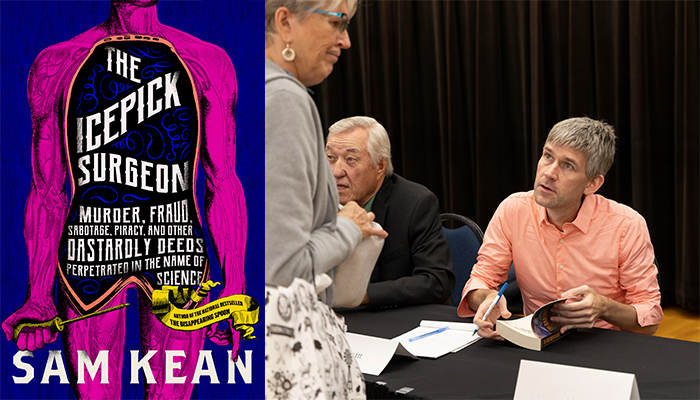 Sam Kean has a gift for combining science and storytelling. That makes him a perfect guest for "Speaking of Health," a reading and lecture series sponsored by the University of South Dakota Wegner Health Sciences Library in partnership with the Sanford School of Medicine.
A New York Times bestselling author of six books, Kean returns to his hometown of Sioux Falls this month to discuss the history and ethics of science as explored his 2021 book, The Icepick Surgeon. He speaks at 6 p.m. on Tuesday, December 20, in the Nettle classroom of the Wegner Health Sciences Library, 1400 West 22nd Street. The free event will also be livestreamed at https://youtu.be/OYn_9tu3QNc.
Kean connects with readers by sharing the "juicy stories" scattered throughout the history of science, serving up characters and conflicts just as spellbinding as those found in novels.
"Science is a deeply human activity," Kean told Youth Time Magazine. "It's not separate from art or music or emotions or love or anything else that's human. Science is a wildly creative field, and scientists experience all the good and bad emotions we all do. And it's one of the triumphs of human existence."
That kind of cross-disciplinary connection is exactly what Anna Simonson, "Speaking of Health" project director, hopes to share with medical students, health care professionals, and the public through this series.
"We wanted to find scholars that engaged in the topics that affect the public and that interest the public and, of course, topics that have to do with health humanities and broadening our discussions of medicine and wellness beyond just the scientific numbers and really bringing the human into the story," Simonson said.
Funded in part by a $10,000 South Dakota Humanities Council grant, the goals of the "Speaking of Health" project include implementing more health humanities courses in the medical school and expanding related article collections in the library.
Kean is the second author featured in the series, which opened in September with Mara Buchbinder discussing her book Scripting Death. Simonson plans to bring in another speaker this spring. In addition to The Icepick Surgeon, Kean's books include The Bastard Brigade, The Tale of the Dueling Neurosurgeons, and The Violinist's Thumb. His work has appeared in The New Yorker, The Atlantic Monthly, The New York Times Magazine, and Slate and has been featured on NPR's Radiolab, Science Friday, All Things Considered, and Fresh Air. Kean's podcast, The Disappearing Spoon, debuted at #1 on the iTunes charts for science podcasts.
---
Learn more about humanities programming in South Dakota by signing up for SDHC e-Updates!