December 31, 2022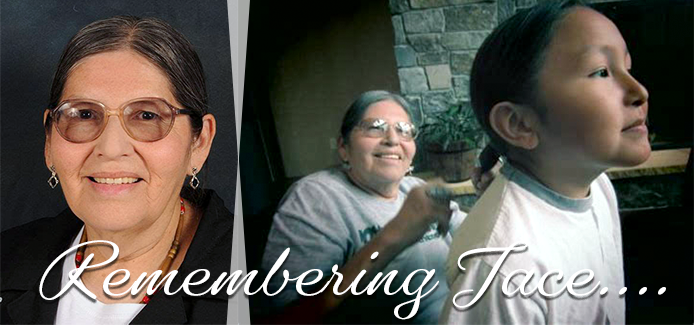 Jace DeCory played many roles during her 71 years of life – mother, mentor, culture protector, crafter, consultant, lifelong learner, leader, and SDHC Board Member, just to name a few.
But perhaps the role that sums her up best is teacher. Whether guiding a class discussion at Black Hills State University, presenting a program as an SDHC scholar, or having a casual conversation, DeCory constantly shared the lessons of her Lakota culture.
A member of the Cheyenne River Sioux Tribe and a lifelong South Dakotan, Janet "Jace" Lea (Cuny) DeCory died November 8 in Rapid City. Just days before that, she had reviewed a set of grant applications as part of her work with the SDHC Program Committee.
"As she always did, Jace provided thoughtful feedback on the applications, with special attention to their incorporation of Indigenous viewpoints on humanities topics," said Ann Volin, SDHC executive director. "She was a strong voice not only for the Lakota, Dakota, and Nakota people, but for all South Dakotans with stories to tell."
DeCory was a member of the SDHC Speakers Bureau for decades, as well as a frequent participant in statewide grant programs and the annual South Dakota Festival of Books. SDHC will recognize her service to the humanities in South Dakota by naming ongoing programs in her honor, including a session at the Festival of Books.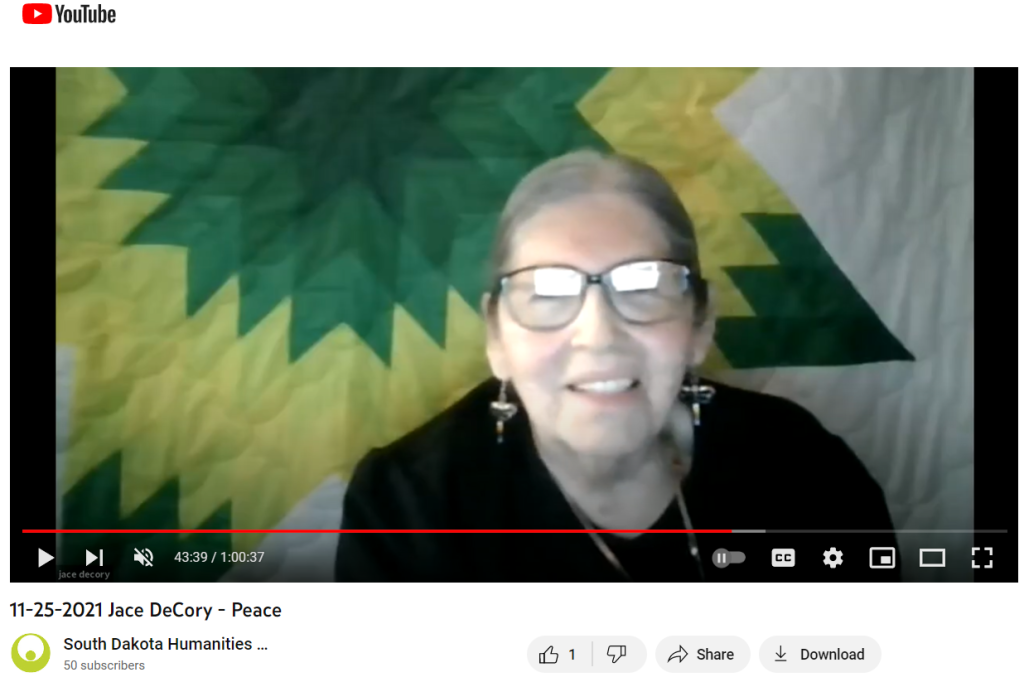 It is a fitting honor for a woman who made cultural education her life's work, according to Whitney Rencountre II, CEO of the Crazy Horse Memorial Foundation and past chair of the SDHC Board of Directors. He met DeCory as a BHSU student and came to think of her as an adoptive mother. He credits her with shaping his career path and life choices.
"Jace was involved in so many circles of influence: professionally, spiritually, and of course, educationally," Rencountre said. "She was a great role model. The way she taught and the way she expressed herself, with such grace and humility, truly inspired me in my own work."
Frank Pommersheim, professor emeritus at the University of South Dakota School of Law and member of the SDHC Board of Directors, worked with DeCory frequently over the years in his capacity as a Tribal Justice and teacher of Indian Law.
"I had the highest regard for her warmth, commitment, and integrity," he said. "In many ways, she epitomized Lakota dedication and deep spiritual humility."
Born in Pine Ridge, DeCory received her undergraduate degree in anthropology and American Indian Studies from the University of North Dakota in 1973 and her master's in education from South Dakota State University in 1987. She also pursued doctoral studies at the University of Washington while pioneering the American Indian Studies program at BHSU, where she taught for 33 years. Throughout her career, she was involved in cultural curriculum development and Lakota language studies.
Upon her retirement in 2017, BHSU dedicated the Jace DeCory Center for American Indian Studies in her honor. The same year, SDHC presented her with the Distinguished Achievement in the Humanities Award.
These and many other honors are important, said Rencountre, but DeCory's full impact on the people she met is immeasurable. "She touched so many lives that her loss is felt by people around the nation," he said. "The legacy she left behind will be felt for generations to come."
For a complete obituary, visit https://www.tributearchive.com/obituaries/26346959/janet-lea-decory
---
Learn more about humanities programming in South Dakota by signing up for SDHC e-Updates