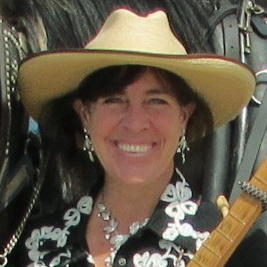 Topics: American Old West, Chautauqua, Education, History, Music, Women
Community: Thermopolis, WY
Program Types: Chautauqua, Musical Performance, Speakers Bureau
www.gypsycowbelle.com
gypsycowbelle@gmail.com | (307) 231-9252
Homespun Instruments
This program is an interactive workshop which stimulates music making, creative expression and positive group dynamics using a wide array of simple and homemade instruments. A brief overview of historic origins and construction of selected instruments sets the stage, after which participants 'join the band' as Miss "V" leads traditional folk, cowboy and classic country tunes. The program is excellent for students, family-oriented community events, living history demonstrations and folk festivals.
Dawn in the Night (Chautauqua)
This program is a compelling portrayal of Amelia Earhart, staged in 1934. During the body of the performance, Amelia answers scripted questions posed by 'plants' in the audience. 'Amelia' then answers impromptu questions relevant to this date. Finally, post-script and further questions follow when Miss "V" appears, covering the last three years of Amelia's life. Highlights of Ms. Earhart's flying career are duly expressed, with equal focus on her childhood, ideological trappings, courage and independence also depicted. The presentation thus offers a comprehensive overview of WHO Amelia Earhart was, rather than focusing on the distracting mystery surrounding her disappearance.
Theme Concerts
Theme concerts knit song and story to unveil hidden chapters of history while stimulating renewed insight into familiar themes. Traditional and original songs on the guitar and homemade banjo likewise pair historic validity with fresh musical perspective.
Trails West captures excerpts from 1840 to 1930, following the progression from emigrant trails to cattle drives, the Pony Express to the Union Pacific, and plenty of lesser known details along the way!
Mare's Tales depicts both legendary and obscure ladies who have made their mark on American history over the past two centuries. The Gypsy Cowbelle's unique experiences inform the presentation from the perspective of a modern renaissance woman.
The Modern-Day Homesteader (Documentary or concert)
The presentation incorporates slides, music and narrative to depict the artist's personal account of fourteen years on a homestead in northwest Wyoming, where she learned the Pioneer way of life. Engaging Q & A discussions follow the presentation. The theme concert utilizes song and story to explore elements of the Homestead experience in the American West. While exploring both familiar and sundry elements of Western pioneer life, the artist also draws on firsthand experiences to further enhance the presentation.
Introduction to Leather Work
Miss "V" presents a hands-on workshop geared for smaller classes of students 14+ and/or adults interested in exploring the fundamentals of leatherwork. Basic techniques, as well as an overview of tools and materials are taught, incorporating simple projects as a means of learning essential components of carving and stamping leather. It is ideal for beginners who possess some artistic flair. A small material fee and/or additional time allotment may apply.