February 18, 2023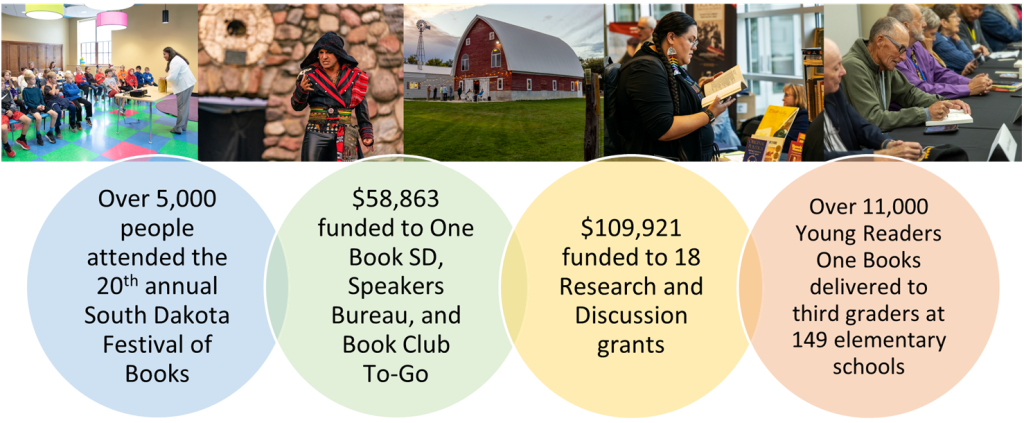 With the South Dakota Humanities Council's 51st birthday on February 16, our Golden Anniversary year has come to a close! As we move into our sixth decade, we're taking a moment to look back at the activities and events that marked this anniversary.
"The 50th anniversary of SDHC's founding provided a perfect opportunity to reflect on our growth and accomplishments, but we're not resting on our laurels," said SDHC Executive Director Ann Volin. "Instead, we're inspired to continue and enhance the work we do across the state for the next 50 years. Forward!"
The official anniversary party was a double celebration, taking place at the 20th annual South Dakota Festival of Books in September in Brookings. It provided an occasion for sharing humanities memories and recognizing loyal supporters, but it was only one of many commemorative activities.
Throughout the year, SDHC marked the anniversary with special social media posts, including a weekly "50 Books for 50 Years" post highlighting the bestselling books and #1 songs from each year, and a monthly Spotlight post featuring some of SDHC's most meaningful programs. SDHC also hosted special guests on several virtual Brainstorming: The Human Connection sessions to discuss the impact of the humanities across the state; among them were past board members, long-time scholars, and frequent Festival of Books presenters.
Here are just a few other highlights of SDHC's 50th anniversary celebrations.
Please enjoy our video reflecting on 50 years of humanities programs in South Dakota.
---
Learn more about humanities programming in South Dakota by signing up for SDHC e-Updates!